Press Release March 28, 2018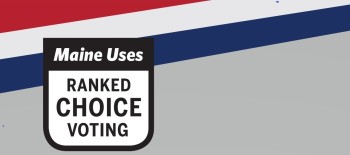 Augusta - Maine Uses Ranked Choice Voting, Maine's leading initiative dedicated to the implementation of Ranked Choice Voting, today saluted the Office of the Secretary of State for releasing new rules governing the June 2018 primaries.
Maine Uses Ranked Choice Voting is a project of the Democracy Partnership between the League of Women Voters of Maine and Maine Citizens for Clean Elections
"The publication of these rules by Secretary of State Matt Dunlap is a crucial milestone on the road to making ranked choice voting a reality in Maine. The rules are timely and constructive, and they show that the office of Secretary of State is on its way to being well prepared for the inaugural use of RCV this June." said Ann Luther, spokesperson for the MURCV initiative and board member of the League of Women Voters of Maine.
The League of Women Voters of Maine has been outspoken on the need to hold all Maine elections to high standards of accuracy, transparency, and verifiability.
Although the Secretary of State could have issued these emergency rules without public comment, the LWVME salutes the Secretary of State for working to create an opportunity for public input (ending April 6). "The Secretary of State has gone beyond the requirements of the law to encourage public input into this process. While we expect to provide constructive comments, it is gratifying that this process honors the spirit of the Ranked Choice Voting law and the democratic aspirations of the thousands of Mainers who have supported it."
"Elections matter. Let's work together to get this right."
For more information on Maine Uses Ranked Choice Voting and the use of RCV in the June election, please visit https://rcv.mainecleanelections.org.