League of Women Voters volunteers register a record 525 Maine students to vote
Press Release April 5, 2018
New spirit of student activism may be behind surge in voter registration in March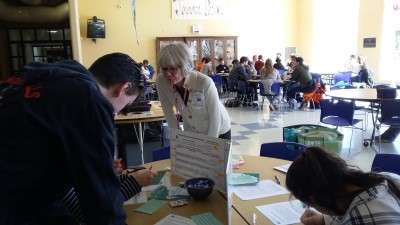 Portland
- Every spring and fall, volunteers with the League of Women Voters of Maine (LWVME) hold voter registration drives in high schools and colleges. Working from tables in cafeterias or corridors, they help students complete registration cards, explain how to vote, and urge them to exercise their right to vote on Election Day. The League has been doing this for years with little fanfare. But in March, 2018, volunteers are seeing a surge in interest among would-be voters. Students crowd their tables, lining up for their turn to register. They tell the League workers that they're excited about going to the polls for the first time. Many take one of the League's stickers, which read, "Watch out! I'm a VOTER".
On March 21, two League volunteers set up a table in the Yarmouth High School cafeteria. School administrators and teachers had promoted the registration drive in advance. By the end of the lunch break, 65 students had registered to vote. The Yarmouth event was one of 22 school registration drives held by the League in March. The largest event so far has been at Camden Hills Regional HS in Rockland, with 79 new voters.
The boom in voter registration among high school students is not limited to Maine, and it coincides with the spread of student activism nationwide. The League's list of school visits has grown in 2018. Under the organization of Peg Balano, Voter Service Chair for the League of Women Voters of Maine, registration drives are being expanded to include Bangor, Biddeford, Brewer, Brunswick, Camden, Farmington, Kennebunk, Lewiston, Machias, Mount Desert Island, Rockland, Topsham, Waterboro and Wells. League volunteers who were registering voters at March for Our Lives events in Portland and Brunswick on March 24th were approached by two teachers asking for visits to their schools. And there are at least 18 more school registration events in the works statewide through early May.
Throughout the year, enthusiastic LWVME volunteers are at every naturalization ceremony held in Maine, registering new citizens to vote. Voter registration drives are also held at farmers' markets and other community events. With these low-key, but vital efforts, League volunteers are acting on their conviction that registering to vote is the first step on the road to lifelong civic engagement. For more information, contact Peg Balano at volunteer@lwvme.org.