Press Release April 9, 2019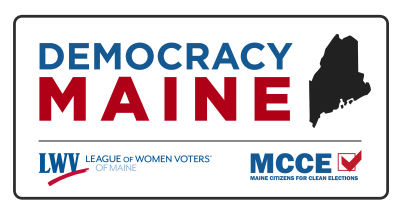 Democracy Maine Supporters to Testify on Importance of Historic Legislation
April 10, 2019 | 9:00am | State House, Room 437
[Augusta, ME] - The Maine State Legislature's Veterans & Legal Affairs Committee is scheduled to hear public testimony on two proposed constitutional amendments tomorrow, taking the next step in Maine's national leadership in the implementation of Ranked Choice Voting.
LD 1477 will pave the way for expanding Maine's current use of Ranked Choice Voting (RCV) to general elections for governor and state legislature. A similar bill + LD 1196 + also allows for the use of RCV in these state elections.
In 2016, Maine voters passed the Ranked Choice Voting Act, determining that all primary and general elections for Maine's governor, state legislature, and federal congressional offices would be conducted by RCV.
But in 2017, the Maine Supreme Judicial Court concluded that general elections for governor and state legislature could not be conducted by RCV because of constitutional provisions requiring "plurality" elections. As a result, in 2018 RCV was implemented only in primary elections plus general elections for federal congressional offices.
"Voter intent was clear - Maine wants statewide elected officials to be chosen by a true majority," said Anna Keller, Executive Director of Democracy Maine. "Passage of either of these bills is an essential demonstration of respect for the will of the people."
Democracy Maine, a partnership between the League of Women Voters of Maine and Maine Citizens for Clean Elections, has been a leading advocate for Maine's use of Ranked Choice Voting since 2011. On Wednesday, dozens of affiliated grassroots advocates are expected to attend and testify in support of amending the constitution.
"It's time to finish the job," said Ann Luther, League of Women Voters of Maine Advocacy Committee Chair and Ellsworth resident. "Ranked Choice Voting is easy to use, and it makes our elections and government more responsive to the will of Maine people - all Maine people."
"Using Ranked-choice Voting for all federal and state elections reinforces voter turnout, encourages civility, and levels the playing field to include everyone's voice," said Julia Fitz-Randolph, Co-chair, Maine Unitarian Universalist State Advocacy Network and League of Women Voters of Maine volunteer.
The successful expansion of Ranked Choice Voting requires a constitutional amendment. Either LD 1477 or LD 1196 must be approved by at least 2/3 of each legislative chamber, at which time it will go before voters in November 2019. A simple majority vote by the public will amend the constitution to allow Ranked Choice Voting to be used in elections for the legislature and governor. Implementing legislation would then be required.