Date & Time
Place
Description
Sunday
Oct 27, 2019
2:00 pm
Curtis Memorial Library
23 Pleasant St
Brunswick 04011

Dark Money Movie Screening and Discussion

Join the League of Women Voters of the Brunswick Area and Maine Citizens for Clean Elections at the Morrell Room in the Brunswick Library on Sunday, October 27 for a screening of Dark Money. After the film, we will have a discussion on Money in Politics advocacy in Maine.

In the News
Maine sees full force of midterm 'blue wave' that missed much of nation, panel in Brunswick says
The Times Record, November 10, 2018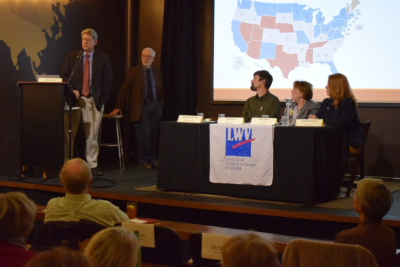 Andrew Rudalevige, Thomas Brackett Reed Professor of Government at Bowdoin College, presents at LWV Brunswick midterm election forum November 8, 2018, at Frontier Cafe in Brunswick.
(photo credit: Nathan Strout / The Times Record)
Membership
To join with a credit card, click here.
Contact
PO Box 18187
Portland, ME 04112
(207) 622-0256
brunswick@lwvme.org
Senior Bryanna Ringrose registering to vote at Morse High School in Bath on National Voter Registration Day 2014