LWVME Study -- Citizen Initiatives
LWVME Study on Citizen Initiatives and People's Vetoes
The LWVME's Citizen Initiative Study Committee has begun a comprehensive review of the history, processes, uses, restrictions and financing of Maine's citizen initiated legislation and referenda. The Committee will research information from a variety of reliable, balanced sources to inform membership about the strengths and weaknesses of the current systems, the pros/cons of alternative systems and possible changes. Although 23 states have some type of initiative process (see map), only a few other state Leagues have studied this topic and none of them has systems comparable to Maine's, so we are doing an original consensus study.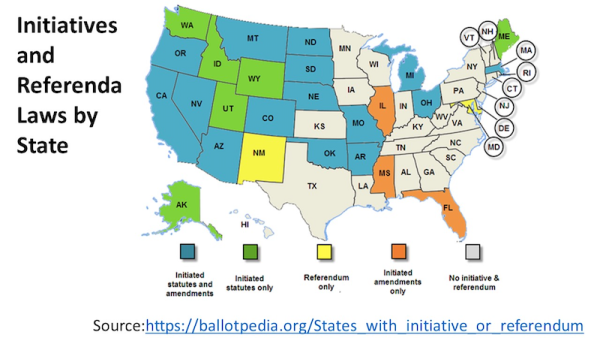 When our study is complete, we'll write up our research, prepare Study Guides and develop Consensus Questions for our League meetings later this year. If you're not a member of LWVME, please join now so you can participate in this important study.
Look for monthly e-mail updates on our study and questions that solicit your input on issues that the Committee is researching. Let us know any thoughts and questions that you have about the citizen-initiative process by contacting us at CIStudy@lwvme.org.
Committee members include: Beth Basham (South Portland), Barbara Kaufman (Freeport), Valerie Kelly (Peaks Island), Kim Peaslee (Peaks Island), and Judy Whiting (Manchester). Suzanne Carmichael (Deer Isle) was also a committee member from Nov 2018 through April 2019.
This Month's Study Committee News
New Documents Are Available
As promised, May's Citizens Initiative Study Update provides a "Cliff Notes" equivalent on the Initiative and Referendum process in Maine. Click here for a 2-page document containing the essentials on how Citizen Initiatives and People's Vetoes work in Maine, without getting into too many weeds.
Thanks for the Past Feedback
We thank those of you who sent us comments on our April "one-pager," Voter Information and Input, and are working to incorporate those suggestions. We also want to thank participants in the breakout sessions on the Citizens Initiative Study at the May 18, LWVME State Convention in Augusta for sharing their insights and contributing to a lively discussion. One of the documents we discussed at Convention is a summary of reforms to the Citizen Initiative process being considered by the 129th Legislature; the document is available here.
Keep the Comments Coming
We value your feedback, so once you look at this month's CI/PV "Cliff Notes", please send your comments and questions to us at CIStudy@lwvme.org.
Looking Forward to the Consensus Meetings
We will continue to send CI Study Updates throughout the summer and hope to have Consensus Questions and Study Guides ready for use by local units in early September. In the meantime, don't hesitate to contact us with your comments or questions about the study in general at CIStudy@lwvme.org.
Citizen Initiative Resources
CI Study Committee Documents:
Maine Government Electronic Resources:
Click here to see all Citizen Initiatives considered by Maine voters 1910-2018.
Click here to see all People's Vetoes considered by Maine voters through the years.