LWVME Study -- Citizen Initiatives
LWVME Study on Citizen Initiatives and People's Veto Referenda
The LWVME's Citizen Initiative Study Committee began a comprehensive review of the history, processes, uses, restrictions and financing of Maine's citizen initiated legislation and referenda in November 2018. The Committee has researched information from a variety of reliable, balanced sources to inform membership about the strengths and weaknesses of the current systems, the pros/cons of alternative systems and possible changes. Although 23 states have some type of initiative process (see map), only a few other state Leagues have studied this topic and none of them has systems comparable to Maine's, so we are doing an original consensus study.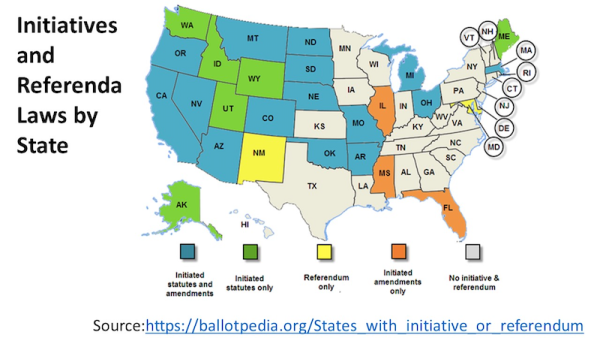 We are now writing up our research, preparing Study Guides and developing Consensus Questions for the use of local units, which will meet to discuss the report and come to consensus on the issues raised by the Study Committee before the end of the year. If you're not a member of LWVME, please join now so you can participate in this important study.
Since January 2019, we have been sending periodic e-mail updates on our study and questions that solicit your input on issues that the Committee is researching. The most recent message for August is posted below, with earlier messages accessible via the archives. Committee members include: Beth Basham (South Portland), Barbara Kaufman (Freeport), Valerie Kelly (Peaks Island), Kim Peaslee (Peaks Island), and Judy Whiting (Manchester). Suzanne Carmichael (Deer Isle) was also a committee member from Nov 2018 through April 2019.
August's Study Committee News
Summer may be winding down, but the LWVME Citizen Initiative (CI) Study is still going strong. And we still need your help!
First, follow this link to learn more about how voters in Maine have used Citizen Intiatives and People's Vetoes for over a century to affect change, along with ways the process has been reformed over time (and as recently as this past legislative session).
Next, let us know what you think about that information. Was it informative? Easy to read? Was it complementary to information provided in past messages about Voter Information on CI/PVR and Frequently Asked Questions about the CI/PVR process (see links below)? Do you still have unanswered questions? Your feedback will help us educate Mainers about the democratic process! Please send your comments and questions to us at CIStudy@lwvme.org.
We are on track to share Consensus Questions and Study Guides with local units in the fall. Thanks for your support in this important effort!
Citizen Initiative Resources
CI Study Committee Documents:
Maine Government Electronic Resources:
Click here to see all Citizen Initiatives considered by Maine voters 1910-2018.
Click here to see all People's Vetoes considered by Maine voters through the years.
CI Study Committee Email Update Archives
Links to our previously published monthly news updates will appear here shortly.