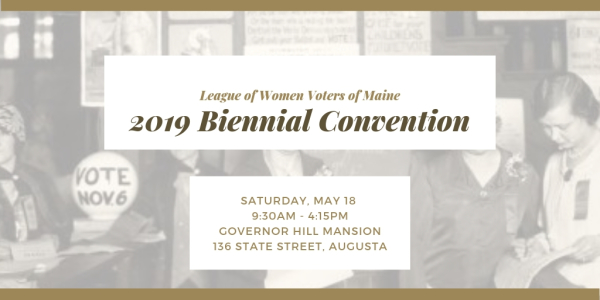 Augusta, Maine
Saturday, May 18, 9:30 a.m. to 4:30 p.m.
Governor Hill Mansion, 136 State Street, Augusta.
Light breakfast and lunch included.
Register now
for the Convention 2019.
It's time for the State League's Biennial Convention. That means it's time to take stock of what we've accomplished and look forward to what more we can do. We'll have a chance to elect an exciting new board and make big plans for the two years ahead.
We'll hear from some of Maine's most prominent citizens and thought leaders. We'll also enjoy old friends and new fellowship with thoughtful, forward-looking League members from around the state. Check back here for additional details over the coming weeks. You can read a more detailed agenda below. Invite a friend and/or prospective member to come along.
Highlights of the Agenda
9:30 - Coffee and registration
10:00 - President's Welcome and Vision
10:30 - Plenary Session I
Presentation of Proposed Bylaws Changes
Presentation of Council of Local Leaders
Presentation of Proposed Budget
Presentation of Proposed Program
Presentation of Nominated Slate
11:30 Break
11:45 - Breakout Groups
1: Citizen Initiative Study
2: Legislative Advocacy Update
3: Voter Engagement Strategies
1:00 - Lunch
1:45 - Ann Luther Volunteerism Award Presentation
2:00 - Afternoon Panel Discussion: The Quest for Universal Suffrage - The 19th Amendment and Political Equality Today
Anne Gass - Independent Historians and author of Voting Down the Rose
Deqa Dhalac - South Portland City Councilor
Osgood - Director, Portland Outright
3:00 - Plenary Session II
Discussion and Vote on the Bylaws
Discussion and Vote on Program
Discussion and Vote on Budget
Election of Board and Officers
Registration Information
Sponsor (help keep this event accessible to all.) $50
Attend (per person) $25
Waiver (Convention is open to all) $0
Registration includes morning refreshments and lunch on Saturday.
If you need a place to stay Friday evening, there are several local Leaguers who have volunteered to serve as hosts. Email us at lwvme@gwi.net for more information.
You can also register in person at Convention, but please reserve your place by calling 622-0256. Look forward to seeing you there!