Date & Time
Place
Description
Friday
Oct 18, 2019
10:00 am

Democracy Forum -- Hate, Fear, and Politics: How Hate and Fear Endanger Democracy

LWV-Downeast hosts a monthly radio program on democracy in cooperation with WERU FM. This month, we'll talk about how hate and fear in politics destroy democracy. How panic and fear make space for abandoning the rule of law and the regular order. How when we demonize the opposition, it makes room for extraordinary measures to stop them. We'll take listener calls during the second half of the show.

Special Guests: Joanne Freeman, Professor of History and American Studies at Yale University; and Steve Wessler, Maine human rights educator, trainer, and advocate specializing in conflict resolution

WERU 89.9 FM Blue Hill, streaming at weru.org

Saturday
Nov 9, 2019
12:00 pm
Unitarian Universalist Church
121 Bucksport Rd
Ellsworth 04605

LWV-Downeast Monthly Meeting

Join us for lunch on the second Saturday of each month. We'll feature guest speakers on timely topics, we'll update members and guests on key advocacy issues in Maine and at the federal level, and we'll provide information on key projects at the state and local level where people can get involved in making democracy work. Lunch will be offered, $10 contribution suggested.

Decolonizing Thanksgiving. We'll look at the Thanksgiving holiday through Native American eyes. History has always been written by the winners -- those who feel that they have won the right to portray that history in a light that waters down the consequences of their 'winning'. However, by unpacking the truth we can all reach a place of better understanding and humanity. With Maulian Dana, Tribal Ambassador of the Penobscot Nation.
Contact Us
PO Box 1394
Ellsworth, ME 04605
(207) 622-0256
downeast@lwvme.org
The Democracy Forum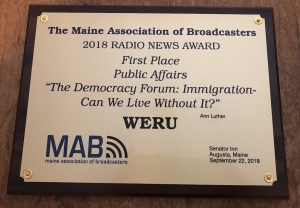 Beginning in 2004 and every four years since, the League of Women Voters - Downeast in cooperation with WERU FM has produced and sponsored a series of radio programs on topics in participatory democracy called the Democracy Forum.
Beginning in 2017, just because there's so much to talk about, we continued the conversations for the first time into a non-election year, and we've been doing it every since.
In September, 2018, the Democracy Forum won top honors from the Maine Association of Broadcasting for public affairs radio.
Broadcasts may be heard live from 10:00 to 11:00 a.m. on the third Friday of most months. Listen live at WERU Community Radio, 89.9 FM Blue Hill, 99.9 FM Bangor, streaming live on the web at WERU FM.
Here is information about current programs. Programs from the 2016, 2012, and 2008 archives are also available online.
We welcome volunteers who are interested in planning and producing the programs. This great project has taught us so much and made friends of our colleagues. For more information, contact us at downeast@lwvme.org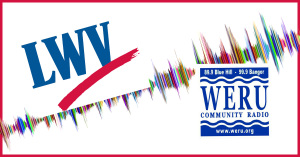 Book Group
Our book group meets more or less monthly. We've read a lot of great books about democracy, politics, and American history. You're welcome to join us. Visit the
calendar
for the upcoming selection and details.
Election 2018
As we have in the past, we will be sponsoring a series of candidate forums for candidates for Maine State Legislature in Hancock County.
October 9 -- Blue Hill
October 15 -- Orland
October 16 -- Somesville/MDI
October 22 -- Ellsworth
Visit the
calendar
for details.
Election 2016
We sponsored a round of important election year activities.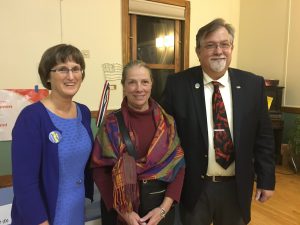 Candidates for District 7 Senate, Moira O'Neill (left) and Brian Langley, join League member, Ann Luther, at the Bar Harbor Candidates Forum October 17th, moderated by Earl Brechlin and co-sponsored by the YWCA MDI and the MDIslander.
Beers, Tears, and Cheers. Not sure whether to laugh or cry? You should have been there November 18. We got together with about 40 friends and neighbors to discuss what just happened in the the election and what it means for the upcoming legislative year. Amy Fried and Jill Goldthwait were our special guests.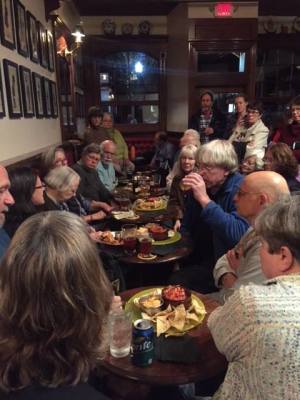 Amy Fried and Jill Goldthwait get the conversation going at Airline Brewing Company.
Join Us
Including communities in Hancock County.
Check the Calendar for upcoming events near you.
Membership
Looking for a place to get engaged? Join the League of Women Voters - Downeast? Join online with a credit card here.
Contacts
PO Box 1394
Ellsworth, ME 04605
(207) 622-0256
downeast@lwvme.org