Date & Time
Place
Description
Wednesday
Jul 17, 2019
5:00 pm
Ann's House
Trenton

LWV Downeast Book Group

Our book for July discussion is Lisa Duggan's Mean Girl: Ayn Rand and the Culture of Greed.

Email RSVP or for more information at downeast@lwvme.org.

Friday
Jul 19, 2019
10:00 am

Democracy Forum -- Town Government: Take 2. Listeners have spoken!

LWV-Downeast hosts a monthly radio program on democracy in cooperation with WERU FM. This month, back by popular demand, we'll talk more about practicing politics and democracy at the most personal level, in local government. What are the characteristics of the towns that have the most civic participation? How can community members help create a culture of inclusion and civic engagement in their own towns? What can go right; and what can go wrong? We'll take listener calls during the second half of the show. Special Guests: Susan Clark, author and facilitator focusing on community sustainability and citizen participation; Susan Lessard, Bucksport Town Manager; and Dick Thompson, moderator for Towns of Palermo, China, Vassalboro, and others. Learn more.

WERU 89.9 FM Blue Hill, streaming at weru.org

Tuesday
Aug 6, 2019
7:00 pm
Jesup Memorial Library
34 Mount Desert St
Bar Harbor 04609

"Saving America Once Again -- Comparing the Tea Party and the anti-Trump Resistance" with Theda Skocpol

Skocpol will speak about both the grassroots spread of more than a thousand local Tea Parties starting in 2009 and the current spread of at least as many local resistance groups as instances of an electorally sparked citizen movement aimed at fostering participation and redirecting public agendas and party politics. Both times, citizens horrified at the election of a president and Congress at the opposite end of the partisan spectrum mobilized to "save America" as they believe it should be. She will look at the characteristics and views of grassroots participants, as well as the structure and activities of local groups and the interplay of national and local efforts in these movements. Skocpol is the Victor S. Thomas Professor of Government and Sociology at Harvard University. Over the last two decades, her research has primarily focused on health care reform, public policy, and civic engagement amidst the shifting inequalities in American democracy.
The Democracy Forum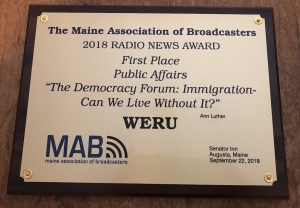 Beginning in 2004 and every four years since, the League of Women Voters - Downeast in cooperation with WERU FM has produced and sponsored a series of radio programs on topics in participatory democracy called the Democracy Forum.
Beginning in 2017, just because there's so much to talk about, we continued the conversations for the first time into a non-election year, and we've been doing it every since.
In September, 2018, the Democracy Forum won top honors from the Maine Association of Broadcasting for public affairs radio.
Broadcasts may be heard live from 10:00 to 11:00 a.m. on the third Friday of most months. Listen live at WERU Community Radio, 89.9 FM Blue Hill, 99.9 FM Bangor, streaming live on the web at WERU FM.
Here is information about current programs. Programs from the 2016, 2012, and 2008 archives are also available online.
We welcome volunteers who are interested in planning and producing the programs. This great project has taught us so much and made friends of our colleagues. For more information, contact us at downeast@lwvme.org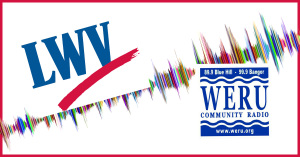 Book Group
Our book group meets more or less monthly. We've read a lot of great books about democracy, politics, and American history. You're welcome to join us. Visit the
calendar
for the upcoming selection and details.
Election 2018
As we have in the past, we will be sponsoring a series of candidate forums for candidates for Maine State Legislature in Hancock County.
October 9 -- Blue Hill
October 15 -- Orland
October 16 -- Somesville/MDI
October 22 -- Ellsworth
Visit the
calendar
for details.
Election 2016
We sponsored a round of important election year activities.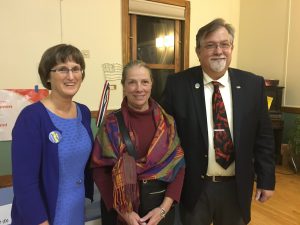 Candidates for District 7 Senate, Moira O'Neill (left) and Brian Langley, join League member, Ann Luther, at the Bar Harbor Candidates Forum October 17th, moderated by Earl Brechlin and co-sponsored by the YWCA MDI and the MDIslander.
Beers, Tears, and Cheers. Not sure whether to laugh or cry? You should have been there November 18. We got together with about 40 friends and neighbors to discuss what just happened in the the election and what it means for the upcoming legislative year. Amy Fried and Jill Goldthwait were our special guests.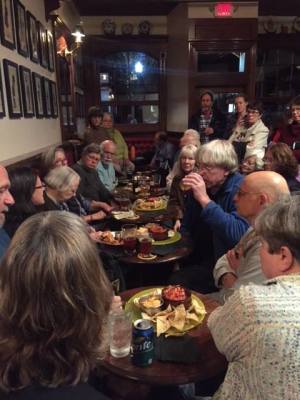 Amy Fried and Jill Goldthwait get the conversation going at Airline Brewing Company.
Join Us
Including communities in Hancock County.
Check the Calendar for upcoming events near you.
Membership
Looking for a place to get engaged? Join the League of Women Voters - Downeast? Join online with a credit card here.
Contacts
PO Box 1394
Ellsworth, ME 04605
(207) 622-0256
downeast@lwvme.org