2019 Machias 4th of July Parade
Join the local League of Women Voters members and volunteers marching in the Machias 4th of July Parade. We will be marching wearing historical dress (late Edwardian to early 1900s or your best approximation - no judgement around the authenticity of your outfit) while carrying banners and flags based on historical ones and some more modern signs to help provide context for people who might not know much about the US Women's Suffrage Movement. We will have some "Votes for Women" sashes for people to march in if you don't have one of your own. Everyone is welcome, so bring family. The more intergenerational, the better. If you have anyone who wants to dress in men's style clothing, we'll have yellow carnations for them.
We're meeting at Machias Memorial High School at 5:30 pm. The parade starts at 6 pm. If you are interested in this event, and can't come, there will be other opportunities coming up. Contact Meghan at machias@lwvme.org for more information.
2018 Gubernatorial Candidate Forum
On Sunday, September 16, the League of Women Voters of Maine and the University of Maine at Machias sponsored a Gubernatorial Candidate Forum at the Performing Arts Center of the University of Maine-Machias. Candidates for Governor of Maine discussed issues important to the people of Washington County. Candidates Alan Caron, Terry Hayes, and Janet Mills participated. Candidate Shawn Moody declined. You can view the forum
here
.
From left to right below, candidates Janet Mills, Alan Caron, and Terry Hayes; UMM professors Meghan Duff, Tora Johnson (moderator), and Rebecca Bragg (timer).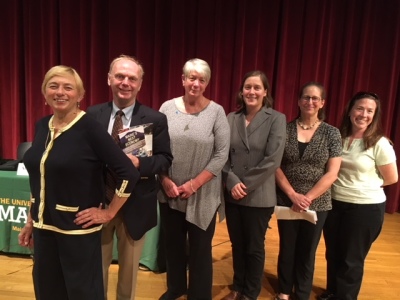 Join Us
Check the
Calendar
for upcoming events near you.
League members and friends in the Machias area usually meet monthly for breakfast at Helen's Restaurant, beginning at 8:00 a.m. on the first Wednesday of the month. Contact Meghan at machias@lwvme.org to confirm the meeting.
We are planning events now for the coming year. Inquire for more details at machias@lwvme.org.
Membership
Interested in joining the League of Women Voters in the Machias Area? Join online with a credit card here.
Contacts
PO Box 18187
Portland, ME 04112
(207) 622-0256
machias@lwvme.org