The 2019 Portland Voter Guide is Available HERE!
About our local League in the greater Portland area
2019 Events
Information about upcoming Portland Area League events will appear here as it becomes available.
Join the Portland Area League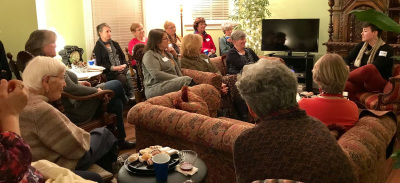 Join us!
We proudly operate as a nonpartisan, fact-based source of information for voters.
We study together to educate ourselves prior to taking action.
We appreciate being part of a national organization but want to work locally.
We love increasing the number of registered voters.
We advocate for policies that improve our democracy.
We honor and continue the important history of the League of Women Voters.
We have a great schedule ahead for 2019-2020! LWVPA loves questions! Contact
Beth
or
Peg
.
Portland League Newsletters
Volunteer Opportunities
Here's your chance to get involved
in exciting projects with the Portland Area League. These ongoing efforts are vital to creating an engaged community - and they're fun.
Portland League Contact Info
LWVPA Who's Who
Co-presidents - Peg Balano and Beth Basham
Secretary - Carol Carpenter
Treasurer - Polly Ward
Directors:
Elaine DiGiovanni
Barbara Kaufman
Kim Peaslee
Sue Robins
Gail Roller
Debra Smith
The Emily Farley Fund
The Emily Farley Fund, part of the Maine Community Foundation, honors the work and memory of the indomitable Emily Farley and financially supports programming of an educational nature. Emily was finance chair of the LWV Portland Area for many years as well as a dedicated board member and President.
Learn more about the Emily Farley Fund