Date & Time
Place
Description
Tuesday
Sep 24, 2019
5:30 pm
Portland Public Library
5 Monument Sq
Portland 04101

The Struggle for Women's Suffrage: Revisiting Our History, Rededicating Our Future

The League of Women Voters of the Portland Area, in partnership with the Portland Public Library, has a special event planned to commemorate the 19th amendment. Light refreshments will be served.

LWVME's own Ann Luther will kick off our centennial commemoration of the 100th anniversary of the 19th amendment, when women won the right to vote. It is not the suffrage story the way you've always heard it, although the familiar elements are all there. We'll tell the tale of the mulitgenerational struggle for women's voting rights, we'll celebrates that historic victory, but we'll also pause for a sober reflection on the compromises that split the movement and left many voters behind--choices that continue to echo 100 years later. We'll end with a brief overview of the work that remains to be done. Please join us to fill the Rines Auditorium.

Wednesday
Oct 2, 2019
6:00 pm
5 Monument Sq
Portland 04101

Portland Mayoral Forum

Join the League of Women Voters of Maine to meet and hear from 2019 Portland mayoral candidates!

This event is free, but space is limited. RSVP at portland@lwvme.org
About our local League in the greater Portland area
2019 Events
LWV Portland Area Annual Meeting
Thursday, May 9th, 2019 5:30 pm - 8:00 pm
MASON MOTZ FACILITY, 190 Middle Rd, Falmouth ME 04105-1280
Annual Meeting of the League of Women Voters of the Portland Area
Please join us for the sixth Annual Meeting of the League of Women Voters of the Portland Area. RSVP here.
This is a fantastic opportunity to connect with fellow advocates and weigh in on our chapter's business.
The evening's agenda is as follows:
Mingling & a light buffet
Guest Speaker Nickie Sekera, cofounder of Community Water Justice
Business Meeting & Votes
Raffle
Please review the following proposed documents before the meeting:
Proposed FY20 Budget
,
Slate of Nominees
,
Bylaws
, and
Guidelines
.
We hope to see you on May 9th!
February and April Book Discussions
"The Past isn't dead. It isn't even past." William Faulkner's observation about history shaping the present proved to be apt during discussions of two books: Jon Meacham's Soul of America (February) and Tommy Orange's There, There (April). The book discussions were a collaboration of the Greater Portland League and the Portland Public Library and were held at the Riverton Public Library.
Meacham examined instances of deep cultural and political divides in the US since the Civil War, depicting them as a struggle between the "better angels of our nature" (citing Abraham Lincoln's phrase) and the forces of fear and strife. Participants discussed the unsettling similarities with the isolationism of the 1930s or with McCarthyism in the 1950s. They agreed that effective reform happens only with grass roots efforts in tandem with enlightened leadership, noting the eventual success of women's suffrage in 1920 or the strides made during the Great Society reforms in the 1960s. Readers ultimately saw Meacham's analysis as reassuring: we've been through times like these before and we've seen our way to better times. Participation in civic life, especially through voting, is key.
Tommy Orange's devastating portrait of the challenges faced by urban Indians in There, There shows the truth of Faulkner's maxim. Discussion focused on the effects of violence and dislocation (physical and cultural) at the hands of a Euro-American power structure, a legacy that stretches back five hundred years and continues to today. The individual stories of alcohol abuse, drug trafficking and family separation offered a very bleak picture of the characters who came together at a Powwow in Oakland. While offering an overwhelmingly tragic vision, some of Orange's characters find reconciliation and salvation for themselves and their children by rediscovering and embracing their Indian culture.
The two-book discussion collaboration with the League was part of the Portland Public Library's "Choosing Civility" initiative. Each book triggered unsettling reactions and potentially conflicting points of view among participants. Certainly food for thought as the League and Library each explore how to ensure fuller participation in our democratic institutions.
The "Can We?" Project Student Presentation
Thursday, March 28, 2019 5:30-7:30 pm
Green Room, Performing Arts Center at Waynflete School
Storer Street (between Danforth and Spring), Portland ME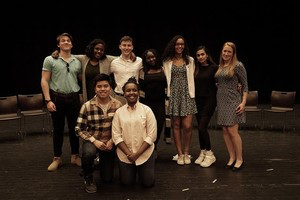 League members and guests spent an informative March 28th evening with three Deering High students who had participated in the "Can We?" project and several of the project organizers and facilitators. Following a short video that captured some of the highlights of students interacting with each other during a multi-day retreat, the students answered questions from the audience about how the project had changed their outlooks and ways of interacting with others, particularly others with different views about difficult-to-discuss political topics.
The "Can We?" Project is an experiment in revitalizing democracy that engages young people in civic discourse and takes direct aim at bridging the deepest societal divides through dialogue and curiosity. Building on the school's history of valuing diversity as a condition of excellence--including its particular commitment to Portland's resettled refugee communities--the "Can We?" Project recruited 29 high school students with diverse backgrounds, life experiences, and political viewpoints from six equally diverse public schools and Waynflete. The project delivered a multi-faceted program over a four-month period designed to cultivate the participants' empathy, to train them to bridge differences through honest conversation, to challenge them to propose solutions to pressing and politically contentious issues in Maine, and finally, to present their ideas to gubernatorial candidates last spring in an interactive forum. Waynflete applied for and has received a grant to continue and expand this program. The LWVPA looks forward to helping in any way possible since this work promotes many of the core values of the League.
2018 Events
Whine & Wine! Election Debrief Party
League fun and respectful discourse with a local Democrat, Republican, and Independent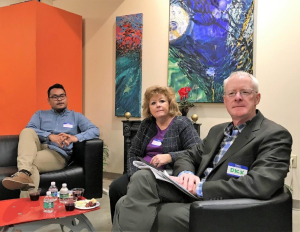 LWVPA members and friends enjoyed a lively discussion on November 14th at our 3rd bi-annual post-election Whine and Wine event held this year at PelotonLabs. The panelists, Marpheen Chann (Democrat), Barbara Harvey (Republican), and Dick Woodbury (Independent), shared their views on how the recent elections are likely to affect the next session of the Maine State Legislature. They addressed questions from the audience on topics such as civility in political discussions, the potential for expansion of ranked choice voting to the election of state officials, legislative priorities for their parties, the role of citizen initiatives in the legislative process, automatic voter registration, and ways of achieving more gender balance among elected representatives. It was a delight to hear the panelists offer thoughtful answers to the audience's questions in an atmosphere where all views were respected and differences among the panelists were discussed in a civil manner.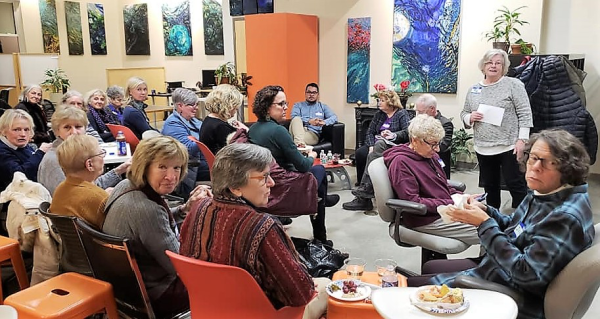 Marpheen Chann, Democrat, left in top photo
Marpheen Chann, a Digital Strategy Consultant and Board Member of the Greater Portland Immigrant Welcome Center, is a gay, first-generation Asian-American who was born into a Cambodian refugee family and adopted by an evangelical, white working class family. He is a Portland, Maine-based thinker, writer, and speaker on LGBTQ+ and immigrants' rights, social justice and equality. He holds a Bachelor's degree in Political Science from the University of Southern Maine and a law degree from the University of Maine School of Law. Chann ran for Portland City Council in 2017. (website here)
Barbara Harvey, Republican, middle in photo
Barbara Campbell Harvey of Portland was elected as Secretary of the Maine Republican Party in 2015 and unanimously re-elected in 2017. In addition to her vast experience with Republican political organizations across Maine, Ms. Harvey also has served in a variety of positions for well-known organizations such as the Maine Education Loan Authority Board, LearningWorks, First Radio Parish Church of America, and Friends of the Blaine House. Ms. Harvey received her Master's Degree in political science at Northeastern and lives in Portland, Maine. (website here)
Dick Woodbury, Independent, right in photo
Dick Woodbury, an economist and politician, served as an unenrolled (or Independent) State Senator from Maine's 11th District, beginning in 2010. Before that, he served three terms (2002 – 2008) in the Maine House of Representatives. He has been a visiting scholar with the Federal Reserve Bank of Boston and written extensively on tax reform in Maine. In 2014, Woodbury and others introduced a Maine citizen's initiative to replace the state's plurality voting system with a ranked choice voting one.
Cumberland County DA Candidates' Forum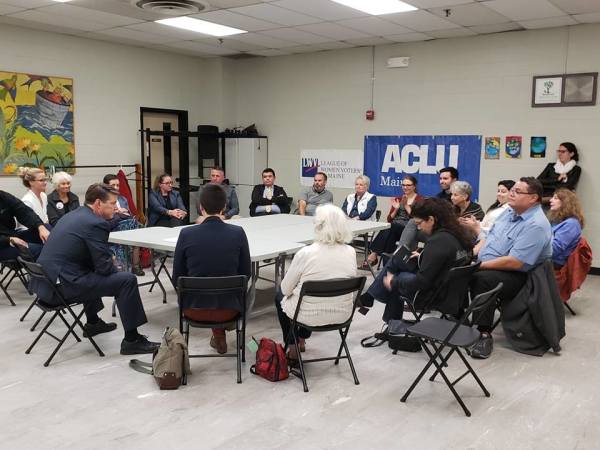 Join the Portland Area League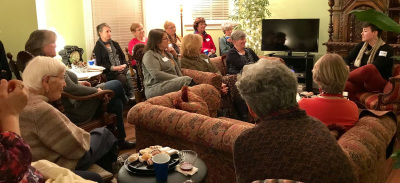 Join us!
We proudly operate as a nonpartisan, fact-based source of information for voters.
We study together to educate ourselves prior to taking action.
We appreciate being part of a national organization but want to work locally.
We love increasing the number of registered voters.
We advocate for policies that improve our democracy.
We honor and continue the important history of the League of Women Voters.
We have a great schedule ahead for 2018-2019! LWVPA loves question! Contact Barbara
kaufman.barb@gmail.com
or Peg
peg.balano@gmail.com
.
Action on Priority Issues
Open Board Meetings
2018-2019 Board Meetings are held from 9:00 to 11:00 a.m. on the first or second Monday of most months. Meetings are open to all League members and held at LWVME/MCCE's second floor conference room, 565 Congress St., Portland.
Monday, January 7, 2019, 9-11 a.m.
Monday, March 4, 2019, 9-11 a.m.
Monday, April 8, 2019, 9-11 a.m.
Annual Meeting
Thursday, May 9, 2019, 5:30-8:00 p.m., 190 Middle Rd., Presumpscot Room, Falmouth, ME 04105.
2018-2019 Newsletters
Read our Summer 2019 Newsletter
Read our May 2019 Newsletter
Read our April 2019 Newsletter
Read our March 2019 Newsletter
Read our February 2019 Newsletter
Read our January 2019 Newsletter
Read our December 2018 Newsletter
Read our November 2018 Newsletter
Read our October 2018 Newsletter
Read our Fall 2018 Newsletter
Read our Summer 2018 Newsletter
Read our May 2018 Newsletter
Read our April 2018 Newsletter
Read our March 2018 Newsletter
Read our February 2018 Newsletter
Read our January 2018 Newsletter
2016-2017 Newsletters Newsletters from the archive.
Volunteer Opportunities
Here's your chance to get involved
in exciting projects with the Portland Area League. These ongoing efforts are vital to creating an engaged community - and they're fun.
Portland League Contact Info
Portland Area League of Women Voters
PO Box 18187
Portland, ME 04112
(207) 622-0256
portland@lwvme.org
LWVPA Who's Who
Co-presidents - Peg Balano and Barbara Kaufman
Secretary - Carol Carpenter
Treasurer - Polly Ward
Directors:
Beth Basham
Elaine DiGiovanni
Valerie Kelly
Kim Rich
Gail Roller
The Emily Farley Fund
The Emily Farley Fund, part of the Maine Community Foundation, honors the work and memory of the indomitable Emily Farley and financially supports programming of an educational nature. Emily was finance chair of the LWV Portland Area for many years as well as a dedicated board member and President.
Learn more about the Emily Farley Fund