Democracy Forum on WERU FM Community Radio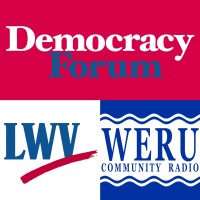 Listen to This!
February 21 -- Super Tuesday Comes to Maine March 3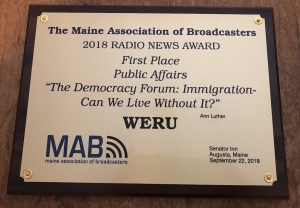 The League of Women Voters-Downeast in cooperation with WERU FM produces a monthly radio program on topics in participatory democracy. It's called the Democracy Forum.
Broadcasts may be heard live from 4:00 p.m. - 5:00 p.m. on the third Friday of the month at WERU Community Radio, 89.9 FM. Listen live on the Web at WERU FM.
In September, 2018, the Democracy Forum won top honors from the Maine Association of Broadcasting for public affairs radio.
Now available as a podcast from WERU FM.
Here is information about our upcoming broadcast.
February 21 -- Super Tuesday Comes to Maine March 3
We will talk about Maine's first presidential primary in two decades. How is the presidential primary going to work, how will delegates to national conventions be apportioned and selected, what role will municipal caucuses continue to play, what will be the differences among the parties. We'll take listener questions during the second half of the show.
Special Guests:
Kenneth Palmer, Professor Emeritus of Political Science at the University of Maine
Lisa Roberts, Executive Director of the Maine Democratic Party
Richard Rosen, former Republican State Legislator and former Commissioner of the Maine State Department of Administrative and Financial Services
Key Topics:
What is the history of primaries and caucuses in Maine?
Why did we make the change back to primaries for this year?
How will the parties' nominees be chosen? How does the Maine primary feed into that selection?
Will we still have municipal caucuses? What will they do?
Who can participate?
What are the key dates for people to remember?
To learn more, follow these links to related content:
"The Primary Versus the Caucus," PBS Newshour, 2003

"Primaries v caucuses: a handy primer," Harry J Enten in The Guardian, 2012.

League of Women Voters of Maine, "Study Guide on Primary Elections," 2018.

"Maine switched to a presidential primary in 2020. Here's why parties are still caucusing," Bangor Daily News, February 9, 2020.

"The U.S. Presidential Nominating Process," The Council on Foreign Relations, January, 2020.

What to Know About the Iowa Caucuses, Pew Research Center, January, 2020

Primary Politics: Everything You Need to Know about How America Nominates Its Presidential Candidates 4th Edition, Elaine C. Kamarck, Brookings Institution Press, November, 2018
Read about and listen to past programs from the League archive.
Recent Topics in this Series
January
CENSUS 2020: Everyone Counts
November
IS GOVERNMENT DOING GOOD: Policy Feedback Effects and the Civic Divide
October
HATE AND FEAR IN POLITICS: How Fear and Anger Endanger Democracy
September
BLACK LIES, WHITE LIES, AND BLUE LIES: Lies that Divide, Lies that Unite
July
TOWN GOVERNMENT TAKE 2: Listeners have Spoken
June
TOWN MEETING: "Doing Democracy" in Your Town
May
REPUBLIC VS. DEMOCRACY: Why Should We Care?
April
CITIZEN INITIATIVES: The Devil's in the Details
March
THE ELECTORAL COLLEGE: The Good, the Bad, and the Ugly
February
THE FREE PRESS AND A FUNCTIONING DEMOCRACY
Read about and listen to past programs from the League archive.