Democracy Forum on WERU FM Community Radio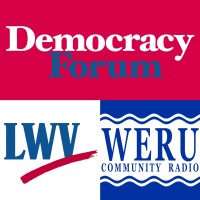 Listen to This!
November 15 -- Is Government Doing Good: Policy Feedback Effects and the Civic Divide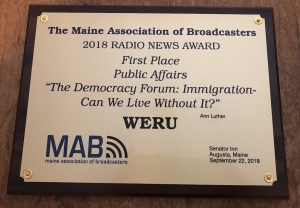 The League of Women Voters-Downeast in cooperation with WERU FM produces a monthly radio program on topics in participatory democracy. It's called the Democracy Forum.
Broadcasts may be heard live from 10:00 to 11:00 a.m. on the third Friday of the month at WERU Community Radio, 89.9 FM. Listen live on the Web at WERU FM.
In September, 2018, the Democracy Forum won top honors from the Maine Association of Broadcasting for public affairs radio.
Now available as a podcast from WERU FM.
Here is information about our upcoming broadcast.
November 15 -- Is Government Doing Good: Policy Feedback Effects and the Civic Divide
"There's a tremendous gap between public opinion and public policy." Noam Chomsky
We'll talk about new political science research into policy feedback effects and how public policy design affects people's sense of themselves as citizens and their propensity to participate. We'll take listener questions during the second half of the show.
In case you missed it live, you can listen to this show from the archive at weru.org.
Special Guests:
Amy Fried, Professor and Chair of the Department of Political Science at the University of Maine

Don Moynihan, the McCourt Chair at the McCourt School of Public Policy at Georgetown University
Key Topics:
The study of policy feedback effects seems to be a new area of political science research. Give us an overview of what people are talking about and what the research is teaching us.

How does this reflect on the political behavior of the America electorate?

Give us some examples on both sides, positive and negative feedbacks.
What are the implications for lawmakers? The practical applications?
How can this research be harnessed to create more effective public policy and more engaged citizens?
Is there a role for ordinary citizens and advocates in making new laws better?
What can ordinary citizens do?
To learn more, follow these links to related content:
Administrative Burden: Policymaking by Other Means, Pamela Herd and Donald P. Moynihan, December 2018
"Citizens feel disconnected from government. If they knew what government did for them, they wouldn't." Interview with Susan Mettler, Washington Post, November 2018
Soldiers to Citizens: The G.I. Bill and the Making of the Greatest Generation by Suzanne Mettler, 2005
Citizens By Degree: Higher Education Policy and the Changing Gender Dynamics of American Citizenship, by Deondra Rose, 2018
Fragmented Democracy: Medicaid, Federalism, and Unequal Politics by Jamila Michener, 2018
"The Impact of Medicaid Expansion on Voter Participation: Evidence from the Oregon Health Insurance Experiment," by Katherin Baicker and Amy Finkelstein in the Quarterly Journal of Political Science, 2019
Read about and listen to past programs from the
League archive
.
Recent Topics in this Series
October
HATE AND FEAR IN POLITICS: How Fear and Anger Endanger Democracy
September
BLACK LIES, WHITE LIES, AND BLUE LIES: Lies that Divide, Lies that Unite
July
TOWN GOVERNMENT TAKE 2: Listeners have Spoken
June
TOWN MEETING: "Doing Democracy" in Your Town
May
REPUBLIC VS. DEMOCRACY: Why Should We Care?
April
CITIZEN INITIATIVES: The Devil's in the Details
March
THE ELECTORAL COLLEGE: The Good, the Bad, and the Ugly
February
THE FREE PRESS AND A FUNCTIONING DEMOCRACY
January
CYBER ATTACKS ON DEMOCRACY: Social Media, Fake News, and Voter Responsibility
November
ELECTION 2018: What Happened and What Does It Mean?
Read about and listen to past programs from the League archive.