Democracy Forum on WERU FM Community Radio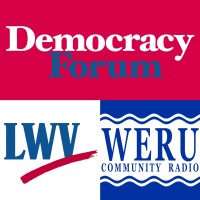 Listen to This!
July 19 - Town Government: Take 2. Listeners have spoken!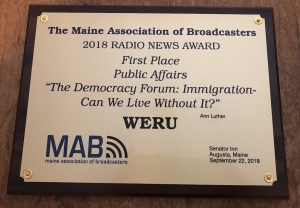 The League of Women Voters-Downeast in cooperation with WERU FM produces a monthly radio program on topics in participatory democracy. It's called the Democracy Forum.
Broadcasts may be heard live from 10:00 to 11:00 a.m. on the third Friday of the month at WERU Community Radio, 89.9 FM. Listen live on the Web at WERU FM.
In September, 2018, the Democracy Forum won top honors from the Maine Association of Broadcasting for public affairs radio.
Now available as a podcast from WERU FM.
Here is information about our upcoming broadcast.
July 19 - Town Government: Take 2. Listeners have spoken!
I'll take the problems of small town politics over Washington chaos any day.
-- Roger Bowen, former Gouldsboro Selectman.
Back by popular demand. We'll talk more about practicing politics and democracy at the most personal level, in local government. What are the characteristics of the towns that have the most civic participation? How can community members help create a culture of inclusion and civic engagement in their own towns? What can go right; and what can go wrong? We'll take listener calls during the second half of the show.
Special Guests:
Susan Clark, author and facilitator focusing on community sustainability and citizen participation. She serves as Town Moderator of Middlesex, Vermont.
Susan Lessard, Bucksport Town Manager.
Dick Thompson, moderator for Towns of Palermo, China, Vassalboro, and others, Dick conducts moderator training for the Maine Municipal Association.
Key Topics:
Regaining lost democracy: is local activism the "new frontier" for civic engagement?
How's it working? Who participates? Is it now, has it always been an insider's game?
Is local politics as uncivil and sharply divided as national politics?
What characterizes the towns with the most community engagement?
How can you find out what you need to know to get involved and be effective?
To learn more, follow these links to related content:
Slow Democracy: Rediscovering Community, Bringing Decision Making Back Home, Susan Clark and Woden Teachout, 2012.
Managing Town Hall meetings so that everyone benefits (and relatively few are miserable), Della Rucker in Creating a Wise Economy, May, 2015.
Citizen's Guide to Town Meeting, Maine Municipal Association.
For the People, by the People: What I saw when I participated in one of the truest forms of democracy, Amy Crawford in Slate May, 2013.
Americans Aren't Practicing Democracy Anymore: As participation in civic life has dwindled, so has public faith in the country's system of government, Yoni Applebaum in The Atlantic October, 2018.
We all should care more about local elections, editorial in the Bangor Daily News, July 6, 2019.
I'll take the problems of local politics over the Washington chaos any day, Roger Bowen op-ed in the BDN, May 21, 2018.
Read about and listen to past programs from the
League archive
.
Recent Topics in this Series
June
TOWN MEETING: "Doing Democracy" in Your Town
May
REPUBLIC VS. DEMOCRACY: Why Should We Care?
April
CITIZEN INITIATIVES: The Devil's in the Details
March
THE ELECTORAL COLLEGE: The Good, the Bad, and the Ugly
February
THE FREE PRESS AND A FUNCTIONING DEMOCRACY
January
CYBER ATTACKS ON DEMOCRACY: Social Media, Fake News, and Voter Responsibility
November
ELECTION 2018: What Happened and What Does It Mean?
October
POLLITICAL POLLs: Can We Ever Trust Them Again?
September
ELECTIONS IN MAINE: Where the Rubber Meets the Road
July
DISTRUST IN GOVERNMENT: A Necessary Evil or a Weapon of Destruction?
Read about and listen to past programs from the League archive.