Talk radio with LWVME
Democracy Forum on WERU FM Community Radio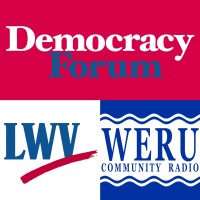 Beginning in 2004 and in every presidential election year between 2004 and 2016, the League of Women Voters - Downeast in cooperation with WERU FM produced and sponsored a series of radio programs on topics in participatory democracy called the Democracy Forum.
Beginning in 2017, we continued the series monthly. Broadcasts may be heard live from 10:00 to 11:00 a.m. on the third Friday of the month. Listen live at WERU Community Radio 89.9 FM, streaming live on the web at WERU FM.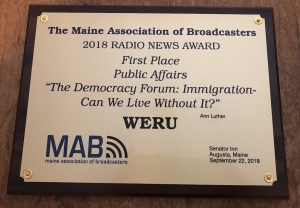 In September, 2018, the Democracy Forum won top honors from the Maine Association of Broadcasting for public affairs radio. The award-winning episode was from May, 2018: "Immigration: Can We Live Without It?"
Here is information about programs beginning in February, 2018.
Programs from the 2017 archive, 2016 archive, 2012 archive, and the 2008 archive are also available online.
September 20 - Black, White, and Blue Lies: Lies that Divide, Lies that Unite
"P.T. Barnum taught us to love spectacle, fake news, and a good hoax. A century and a half later the show has escaped the tent." -- James Parker, staff writer for The Atlantic
We'll talk about the lies in politics and the politics of lying, historical examples, current practice, and the consequences for democracy. We'll take listener calls during the second half of the show.
In case you missed it live, you can listen to this show from the archive at weru.org.
Special Guests:
Key Topics:
How is the present moment in American politics different from others in our history? Or is it?
Remember the old riddle about the truthful Whitefoot and the lying Blackfoot? How can people know who to trust?
How does trust in government -- or distrust -- play into this? What is the recent history of trust in government in America?
What characterizes white lies, black lies, and blue lies? Where do conspiracy theories fit and how do they work?
How much of this is because of the rapidly changing media paradigm? Did we have similar examples from the dawn of the broadcast age? What responsibility does the media have to combat disinformation and lying?
What can ordinary citizens do to protect themselves -- if they want to?
To learn more, follow these links to related content:
July 19 - Town Government: Take 2. Listeners have spoken!
June 2019 - Town Meeting: "Doing Democracy" in Your Town
Town meetings are to liberty what primary schools are to science; they bring it into the people's reach. -- Alexis de Tocqueville.
We will talk about practicing politics and democracy at the most personal level, in local government, and the unusual experience we enjoy in the form of the New England town meeting. Does the town meeting still work? Is participation up or down? Is partisanship creeping in? Is money "from away" taking more of an interest? If you've never been, what do you need to know? We'll take listener calls during the second half of the show.
In case you missed it live, you can listen to this show from the archive at weru.org.
Special Guests:
Susan Clark, author and facilitator focusing on community sustainability and citizen participation. She serves as Town Moderator of Middlesex, Vermont.
Susan Lessard, Bucksport Town Manager.
Dick Thompson, moderator for Towns of Palermo, China, Vassalboro, and others, Dick conducts moderator training for the Maine Municipal Association.
Key Topics:
What's the history of the town meeting in New England?
How's it working? Who participates? Is it now, has it always been an insider's game?
Is local politics as uncivil and sharply divided as national politics?
Which towns have town meeting? What are the alternatives? How do the alternatives stack up?
Regaining lost democracy: is local activism the "new frontier" for civic engagement?
If you've never gone, how can you find out what you need to know?
To learn more, follow these links to related content:
Slow Democracy: Rediscovering Community, Bringing Decision Making Back Home, Susan Clark and Woden Teachout, 2012.
Managing Town Hall meetings so that everyone benefits (and relatively few are miserable), Della Rucker in Creating a Wise Economy, May, 2015.
Citizen's Guide to Town Meeting, Maine Municipal Association.
For the People, by the People: What I saw when I participated in one of the truest forms of democracy, Amy Crawford in Slate May, 2013.
Americans Aren't Practicing Democracy Anymore: As participation in civic life has dwindled, so has public faith in the country's system of government, Yoni Applebaum in The Atlantic October, 2018.
More citizen education from the Maine Municipal Assocation here.
May 2019 - Democracy vs. Republic: Why Should We Care?
April 2019 - Citizen Initiatives: The Devil's in the Details
March 2019 - The Electoral College: the Good, the Bad, and the Ugly
February 2019 -- The Free Press and a Functioning Democracy
January 2019 -- Cyber Attacks on Democracy: Social Media, Fake News, and Voter Responsibility
November 2018 -- Election 2018: What Happened and What Does It Mean?
October 2018 -- Political Polls: Can We Ever Trust Them Again?
September 2018 -- Elections in Maine: Where the Rubber Meets the Road
July 2018 -- Distrust in Government: A Necessary Evil or a Weapon of Destruction?
June 2018 - State Preemption: From Guns to Garbage, Who's Got the Power?
May 2018: Immigration: Can We Live Without It?
April 2018: Ranked Choice Voting: How Will It Work in Maine?
March 2018 -- Gerrymandering: What's the Big Deal?
February 2018 -- Primary Elections: What Are They Good For?