Join the League Lobby Corps.
The LWVME Lobby Corps is an all-volunteer effort. Even if you can only spare an hour or two a month you can be a valuable member of our team! Most of this work can be done from your home or office.
Here are the issues we're following:
Clean Elections & Campaign Finance Reform
Voting Rights & Elections, including Ranked Choice Voting and Early Voting
Ethics & Disclosure
If you're interested in helping us track one or more of these issues, volunteer for the Lobby Corps! Learn more. Call or e-mail for more information:
lwvme@gwi.net
or call 622-0256.
Definition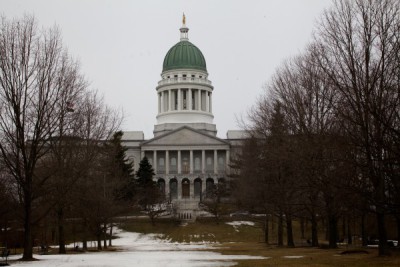 The Legislative Lobby Corps pursues a full lobbying agenda in Augusta. League members from around the state analyze relevant bills and regulations, help choose those where the League can make a real difference, work in coalition with other organizations, apply established League positions to the issues, write testimony, attend committee and agency hearings and work sessions, blog about their legislative experience and observations, contact legislators, and help publicize our work. Members of the Lobby Corps work closely with the League's Advocacy Committee and the State Board on these activities.
Activities
This year, our legislative priorities include advocating for enhanced voter participation, ranked choice voting, campaign finance reform, and voting rights.
This is an excellent opportunity to make a real difference on the issues that matter most to the League. Volunteers can contribute as much time as they have available. A considerable amount of the work can be done from home or office.
No experience necessary!
Volunteer Opportunities
This is an all-volunteer effort, so the larger our Lobby Corps team, the greater difference we can make in Augusta! Even if you have only an hour or two you can spare a month you can be a valuable member of our team! Most of this work can be done from your home or office.
We need volunteers interested in doing one or more of the following, no experience necessary:
Download, read and analyze a proposed law
Apply established League positions to the bill
Help design a "lobbying blueprint" for the bill (when we should do what)
Help track dates for public hearings, work sessions and other activities
Assist in preparing written testimony for oral presentation by our President
Lobby legislators to support League positions (either in Augusta or your home District)
Attend public hearings and/or work sessions in Augusta
Blog about legislative experience and observations
Help develop a legislative scorecard, tracking key votes by lawmakers on League issues.
Monitor proposed agency rule-making, develop testimony when needed
Monitor special legislative committees that often meet between sessions
Help start a "Legislative Listserv" to keep our members informed of Lobby Corps activities.
Resources
Contact us
To volunteer or for more information, contact Ann Luther, 622-0256;
lwvme@gwi.net
.