Election Observation and Protection
The bedrock of our democracy is voter confidence in free and fair elections. In Maine, there are many laws and protocols in place to ensure voters are free from intimidation, that our elections are secure, and that the results are accurate. Additionally, the League is running several programs to ensure that Mainers can vote safely, votes are counted securely, and that the integrity of our elections is protected.
Non-Partisan Election Observation
On November 3, trained League volunteers will monitor voting at polling places around the state, watching for issues such as long lines, equipment problems, and inadequate COVID precautions. We will work with attorneys and election officials to resolve problems, as well as producing a report on the overall integrity of the election. We are currently recruiting volunteers for full or part-day shifts. See our events calendar for upcoming trainings.
Absentee and In-person Voting Survey
We are currently collecting responses to our absentee voting survey, and are pleased at the mostly positive responses from voters so far. If you've voted absentee by mail, dropbox, or at your town hall, you can fill out the survey here. Please share it far and wide. If you voted in-person on Election Day, you can fill out our quick survey here.
Dropbox Observation
Secure absentee ballot dropboxes are a great addition to Maine's elections infrastructure. Many towns now have dropboxes, but types and security protocols vary. There is no central database of dropbox locations. The League is collecting information about dropboxes for voter information, as well as to assess which towns may need additional security measures. View the current map, or sign up here to help us fill in the gaps.
The League of Women Voters of Maine updates this map daily, but it is still not complete. We are working on adding the hundreds of towns across Maine. Many towns are providing dropoff boxes for absentee ballots. Some are not. The League collects data from town and city websites and social media platforms. You can view our full town index here.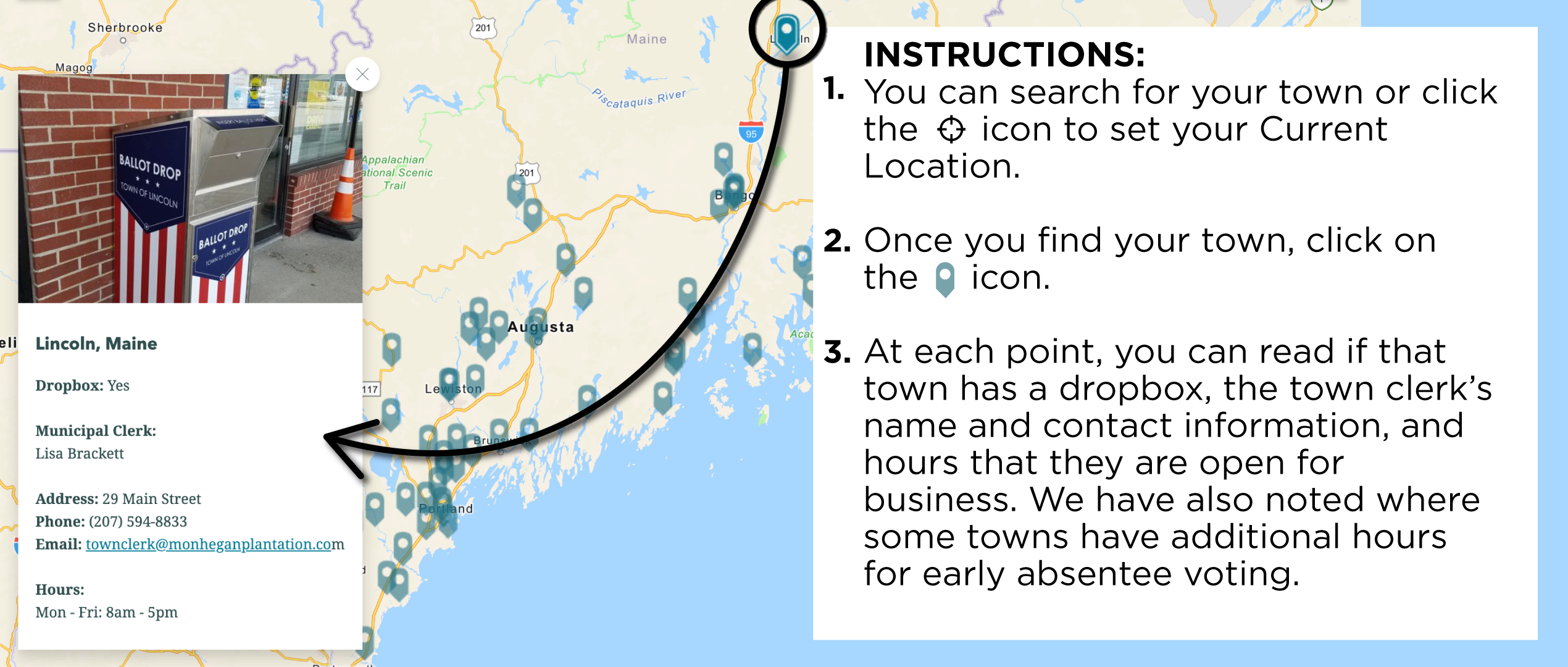 Voter Hotline and Help ME Vote Facebook Page
The League's voter hotline is staffed by experienced volunteers who can can answer things like:
+ How do I register to vote?
+ How does absentee voting work?
+ What might be on my ballot?
+ How does Ranked Choice Voting work?
We are monitoring frequently-asked questions and following up on situations that require intervention at the town or state level to ensure voters are getting accurate information and are able to vote.
Click here to join the "Help ME Vote" Facebook page.
Have an election or voter question? Call or text our Voter Hotline at 207-558-3333. Or click here to email your question.
Report on the July 14 election
Published August 2020
Holding an election during a global pandemic can be a messy business. It certainly tested Maine's election system. This report offers a summary of the successes and challenges of the primary, drawing on observations and reports from around the state as well as preliminary data from the Secretary of State.