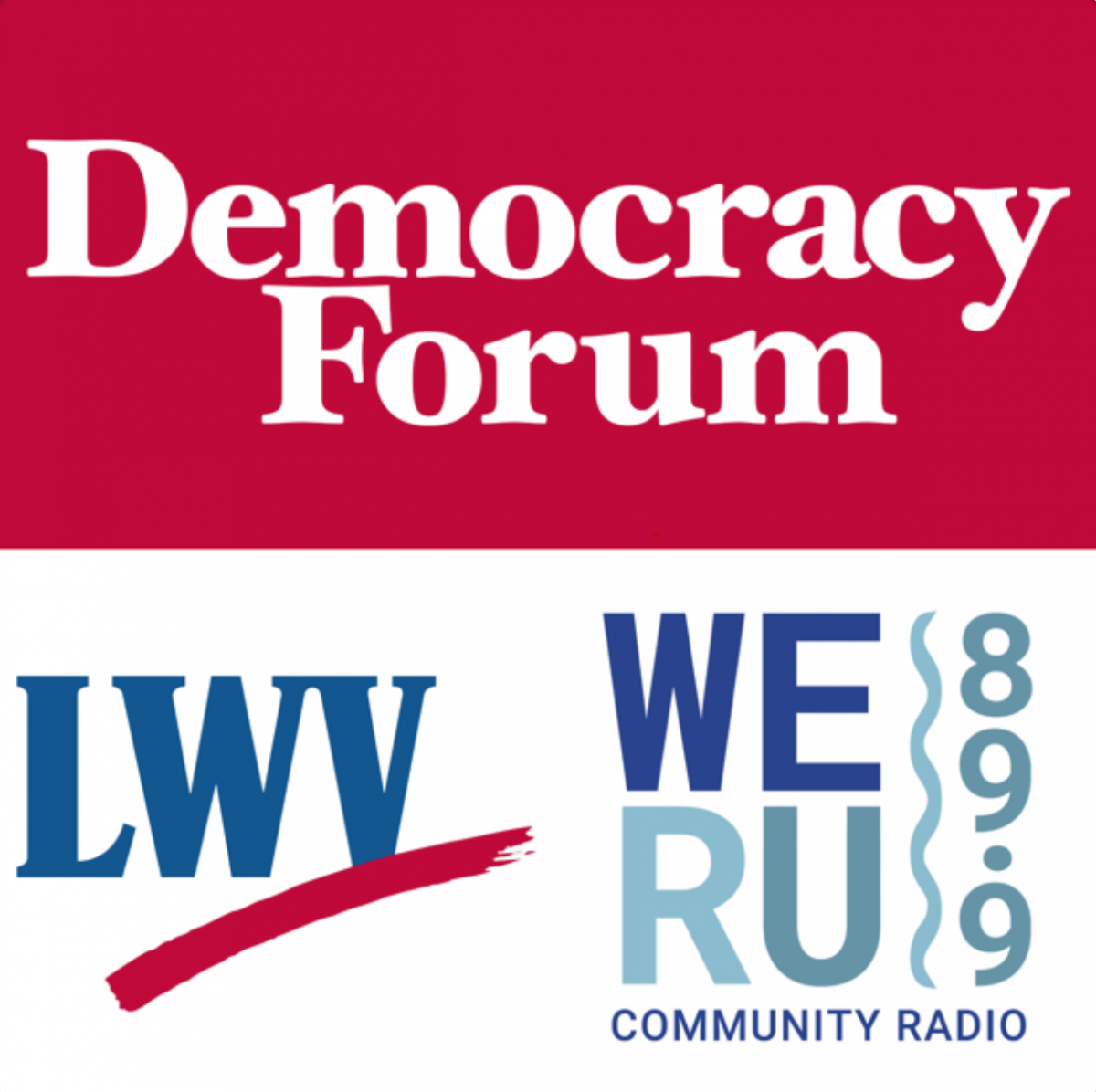 The League of Women Voters-Downeast in cooperation with WERU FM produces a monthly radio program on topics in participatory democracy. It's called the Democracy Forum.
Broadcasts may be heard from 4:00 p.m. - 5:00 p.m. on the third Friday of the month at WERU Community Radio, 89.9 FM Blue Hill. Listen on the web at WERU.org. The show can also be heard in the Portland area at 11:30 a.m., the first Sunday of the following month, at WMPG Community Radio, 90.9 FM Portland, streaming at WMPG.org.
In September, 2018, the Democracy Forum won top honors from the Maine Association of Broadcasting for public affairs radio.
Here is information about our latest or upcoming broadcast.
July 15: Taxation without Representation: Should DC be a State?

This new episode will be pre-recorded on July 13; no listener calls will be taken. Comments and questions may be emailed to news@weru.org with Democracy Forum on the subject line.
"The residents of the District of Columbia deserve the right to (full) representation in Congress if for no other reason than simple fairness." U.S. Sen. Strom Thurmond (R), South Carolina
We'll have a conversation on statehood for the District of Columbia. What rights of self-determination do DC residents now enjoy? How are their rights now constrained? What are the obstacles to DC statehood? What is the history? What is the racial justice aspect to this issue? Against the backdrop of Maine's own struggle for statehood and the Missouri Compromise, why should Maine people care?
Special Guests:
To learn more, follow these links to related content:
DC Statehood Explained | Brennan Center for Justice, March, 2022
Republicans Used to Back DC Statehood. What Changed? - The Atlantic, David Graham, June, 2021
The Long Fight for DC Statehood - JSTOR Daily, Livia Gershon February, 2021
When Adding New States Helped the Republicans - The Atlantic, Heather Cox Richardson, September, 2019
Chocolate City: A History of Race and Democracy in the Nation's Capital by Chris Myers Asch and George Derek Musgrove, 2019
On the Road with the DC Statehood Toolkit, League of Women Voters of DC, November, 2017
A Review of the D.C. League of Women Voters Project to Educate Sister Leagues Around the Country, League of Women Voters of DC, March, 2019
"Statehood is Far More Difficult" The Struggle for D.C. Self-Determination, 1980–2017, George Derek Musgrove, Fall 2017