Democracy Forum on WERU FM Community Radio
Listen to This!
November 20: Election Reflections 2020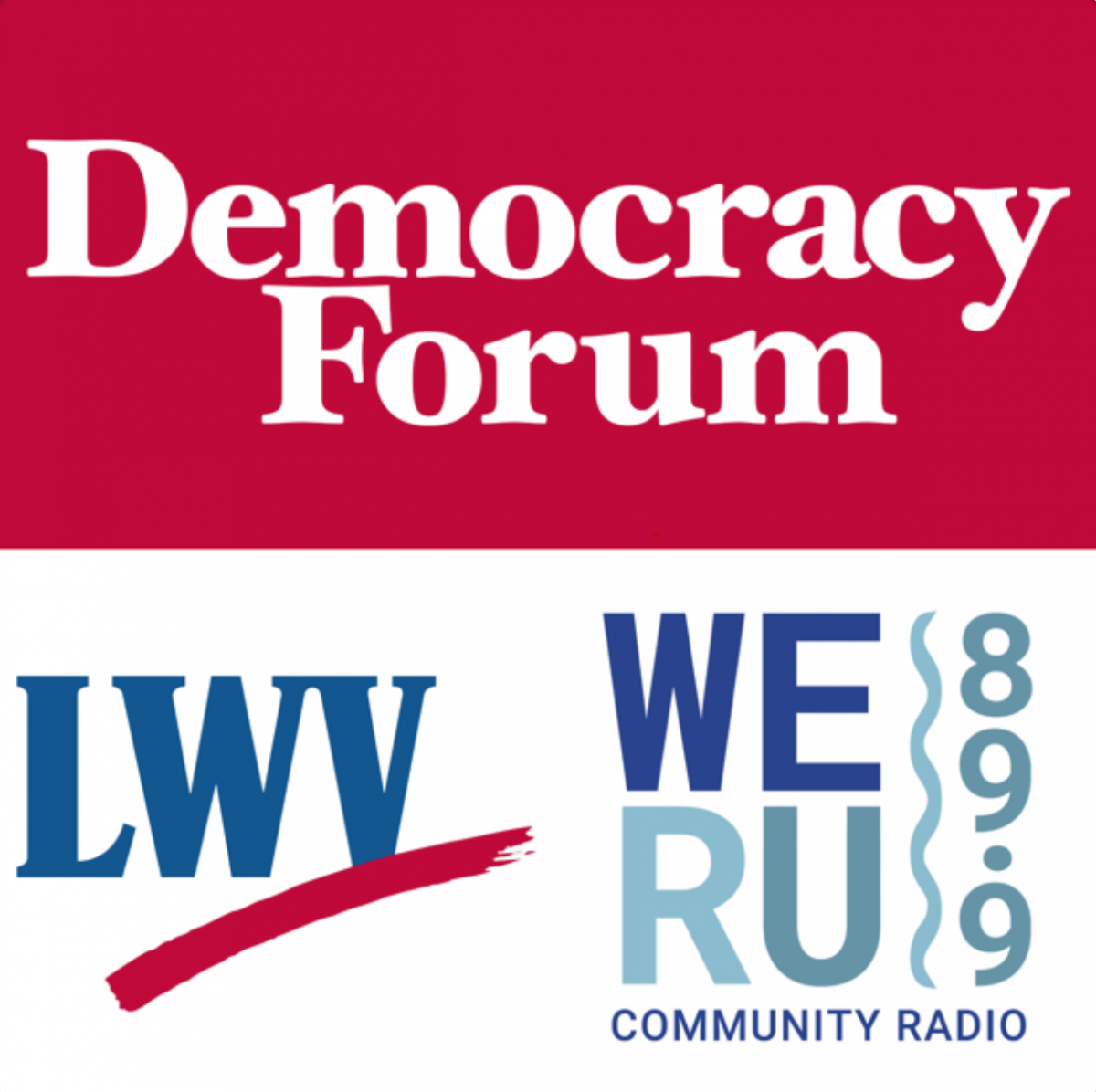 The League of Women Voters-Downeast in cooperation with WERU FM produces a monthly radio program on topics in participatory democracy. It's called the Democracy Forum.
Broadcasts may be heard from 4:00 p.m. - 5:00 p.m. on the third Friday of the month at WERU Community Radio, 89.9 FM. Listen on the Web at WERU FM.
In September, 2018, the Democracy Forum won top honors from the Maine Association of Broadcasting for public affairs radio.
Broadcasts are available as a podcast from WERU FM.
Here is information about our upcoming broadcast.
November 20 -- Election Reflections 2020
This new episode will be pre-recorded on November 19. No listener calls will be taken, but comments may be emailed to news@weru.org with Democracy Forum on the subject line.
"There's no such thing as a vote that doesn't matter." Barack Obama
We will talk about the November 3 general election, what just happened here in Maine and around the country, what went right, what went wrong, and what it says about the future of our democracy.
In case you missed it live, you can listen to this show from the archive at weru.org.
Special Guests:
Shelly Crosby, Orono Town Clerk and the President of the Maine Town and City Clerks Association
Matt Dunlap, Maine Secretary of State
Amy Fried, Professor and Chair of the Department of Political Science at the University of Maine
Jill Goldthwait, Award-winning columnist for the Ellsworth American and the Mount Desert Islander, and former independent Maine State Senator
Meg McCormick, Maine Director & New England Coordinator, Campus Election Engagement Project.
Key Topics:
What went right; what went wrong in Maine?

Were there any surprises?

What about turnout? Was overall participation high? Were there any changes in who showed up?

What was the effect of COVID on turnout and operations? Do you think some of those changes are here to stay?
To learn more, follow these links to related content:
Recent Topics in this Series
Read about and listen to past programs from the League archive.
October 2020
Who's Showing Up to Vote in November?
September 2020
Who Votes, Who Can't, and Who Won't?
July 2020
Election Reflections
June 2020
One Person, One Vote: The Electoral College and the NPV
May 2020
Ranked Choice Voting: How's It Working in 2020
April 2020
Voting in a Pandemic: The Upcoming Primary Election in Maine
February 2020
Super Tuesday Comes to Maine
January 2020
CENSUS 2020: Everyone Counts
November 2019
IS GOVERNMENT DOING GOOD: Policy Feedback Effects and the Civic Divide
October 2019
HATE AND FEAR IN POLITICS: How Fear and Anger Endanger Democracy