Democracy Forum on WERU FM Community Radio
Listen to This!
January 15: Searching for Common Ground across the Political Divide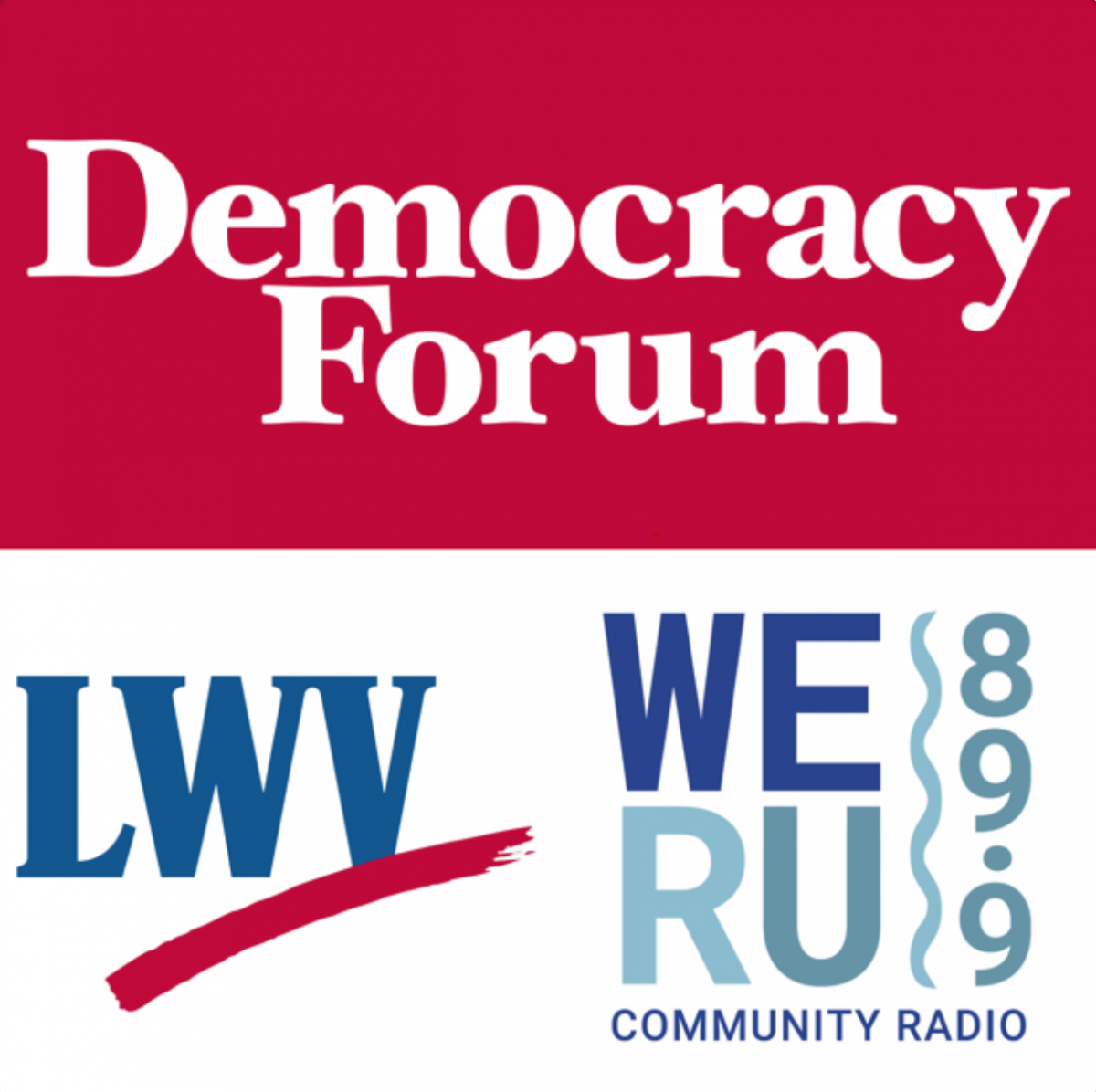 The League of Women Voters-Downeast in cooperation with WERU FM produces a monthly radio program on topics in participatory democracy. It's called the Democracy Forum.
Broadcasts may be heard from 4:00 p.m. - 5:00 p.m. on the third Friday of the month at WERU Community Radio, 89.9 FM. Listen on the Web at WERU FM.
In September, 2018, the Democracy Forum won top honors from the Maine Association of Broadcasting for public affairs radio.
Broadcasts are available as a podcast from WERU FM.
Here is information about our upcoming broadcast.
January 15 -- Searching for Common Ground across the Political Divide

This new episode will be pre-recorded; no listener calls will be taken. Comments and questions may be emailed to news@weru.org with Democracy Forum on the subject line.
Matthew 12: "Every kingdom divided against itself is brought to desolation, and every city or house divided against itself will not stand."
We'll talk about the political divide in the aftermath of the 2020 general election. Do we share any common ground? What happened at "America in One Room?" What lessons can we learn about American democracy and its future? How can we shape our democratic institutions to foster more deliberation? What lessons can we learn about engaging in deliberation everyday?
In case you missed it live, you can listen to this show from the archive at weru.org.
Special Guests:
Larry Diamond, Senior Fellow at the Freeman Spogli Institute for International Studies, Senior Fellow at the Hoover Institution, Professor, by courtesy, of Political Science and Sociology
James Fishkin, Janet M Peck Chair of International Communication, Professor of Political Science (by courtesy), and Director of the Center for Deliberative Democracy.
Steve Wessler, Maine human rights educator, trainer, and advocate specializing in conflict resolution
Key Topics:
What happened at "American in One Room?"

What did you learn about polarization and common ground?

What do you mean with the phrase, "deliberative democracy?"

What are the values, fears, and misperceptions that divide us?

Are there opportunities for us to practice deliberative democracy in our private and public lives and in our democratic institutions?
To learn more, follow these links to related content:
Recent Topics in this Series
Read about and listen to past programs from the League archive.
November 2020
Election Reflections 2020
October 2020
Who's Showing Up to Vote in November?
September 2020
Who Votes, Who Can't, and Who Won't?
July 2020
Election Reflections
June 2020
One Person, One Vote: The Electoral College and the NPV
May 2020
Ranked Choice Voting: How's It Working in 2020
April 2020
Voting in a Pandemic: The Upcoming Primary Election in Maine
February 2020
Super Tuesday Comes to Maine
January 2020
CENSUS 2020: Everyone Counts
November 2019
IS GOVERNMENT DOING GOOD: Policy Feedback Effects and the Civic Divide