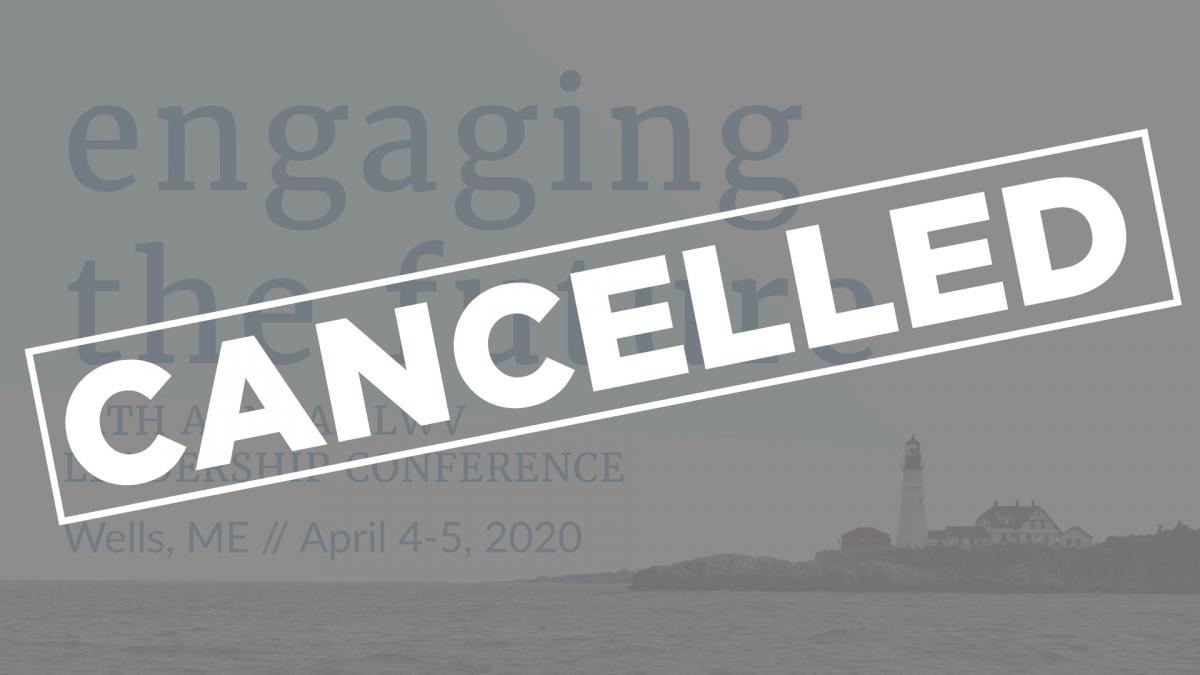 UPDATE:
Due to the coronavirus, we have decided to cancel this year's New England Leadership Development Conference, which was planned for April 4-5, 2020.
We are exploring the possibilities for offering some of the event online in webinar form. Please let us know at info@lwvme.org if this is something in which you would participate. Which speaker(s) would you most want to hear from?
If you have already registered and paid, you will hear from the LWVME office, and you will have several options regarding your registration fee:
receive a refund
apply it towards participating in the event in webinar form
leave the money with the LWVME as a donation to support this conference next year
If you have already made a reservation at the Hampton Inn, please contact them to cancel it: Hampton Inn & Suites, 900 Post Road, Wells, Maine 04090 (207-646-0555)
We will miss seeing all of you in person!
---
Fourteenth Annual Leadership Conference

Register now for the League's fourteenth annual New England Regional Leadership Development Conference!
Our theme this year is:
"Engaging the Future"
State League leaders from CT, MA, ME, NH, RI and VT have developed a dynamic agenda for 2020 that is sure to address the most compelling issues of the year.
Plenary sessions will be at the York County Community College, 112 College Drive in Wells, ME, less than a mile from our hotel accommodations at the Hampton Inn, 900 Post Road, Wells, ME. Directions to YCCC from nearby highways are available here; directions from the Hampton Inn to YCCC are available here.
Tentative Agenda - Schedule Subject to Change
Friday evening, April 3
(optional): dinner out and socializing with other early arrivals.
Raffle Tickets Please visit our raffle table to benefit this Conference. Prizes are contributed by League members. Tickets are available all day Saturday: $5 each or five for $20.
Saturday, April 4
9:00 - 9:30 Registration at York County Community College, coffee, and welcome.
9:30 - 9:45 Welcome and Introductions. The League of Women Voters believes in empowering voters and defending democracy. We are committed to a program that promotes diversity, equity, and inclusion. This year's conference will use that lens to empower us to better engage disengaged and disenfranchised voters.
9:45 - 10:45 Keynote Speaker: Virginia Kase, CEO, LWVUS. Ms. Kase will give us an overview of where today's League fits into the national landscape of democracy reform and voter engagement.
10:45 - 11:00 BREAK

11:00 - 12:15 Workshop: Yanna Krupnikov, Associate Professor, Department of Political Science, Stony Brook University. Professor Krupnikov will share her research on the potential for power in information, integrating psychology and political science in order to identify points at which new information can have the most profound effect on the way people form political opinions, make political choices and, ultimately, take political actions. Prof. Krupnikov joins us with the generous support of the Scholars Strategy Network of Maine.
12:15 - 1:00 LUNCH
1:00 - 2:45 Engagement Workshop Panel Presentation: The panel will discuss how Leagues can maximize the impact of our work to engage disengaged and disenfranchised voters. Panelists will share insights about how we can encourage change in voting behaviors; the benefits of cooperation among groups working to engage voters, especially those who feel disengaged or left out; and the crucial role legislation plays in getting everyone to the polls.
Yanna Krupnikov, Associate Professor, Department of Political Science, Stony Brook University

Mufalo Chitam, Executive Director, Maine Immigrants' Rights Coalition

NH Senator Melanie Levesque, Chair of the Election Law and Municipal Affairs Committee
2:45 - 3:00 BREAK
3:00 - 3:45 Small group discussions with individual panelists
3:45 - 4:15 Full group wrap up
4:15 - 4:30 Raffle drawing. This is a win-win: great prizes are donated by League members to raise money to benefit the Conference and we get to win them and take them home! Tickets are available all day Saturday, $5 each or five for $20.
5:30 Dine Around: Sign up for dinner at one of the Wells/Ogunquit restaurants. This is a good time to get together with others from a different state.
Sunday, April 5
Until 9:00 Breakfast at the Hampton Inn included with room reservation.
9:00 - 9:15 Update from Toni Zimmer, LWVUS Board Liaison
9:15 - 10:00 Takeaways from Saturday's sessions
Summary of results

Implications for each state

What have we learned that we can apply right away to better engage voters in our states?

What longer-term actions we can take?
10:00 - 10:15 Break
10:15 - 11:45 Envisioning our next 100 years: brainstorming ourselves into the future
Celebrating the past: what have we learned?

Going beyond our current goals: where can we push the envelope?

What actions do we intend to take to move our organization forward?

What results do we want to see in five years? Ten? Twenty?
11:45 - 12:00
Wrap-up and adjourn.
Don't leave early -- Sunday could be the best part!
Register Now
Registration is $25 per person paid to the LWVME Education Fund. To register online using a credit card, click here.
To register by check, fill out the registration form and return with a check for $25, payable to the LWVME Education Fund. Note "Leadership Conference" in the memo field. Send to
LWVME Education Fund

PO Box 18187

Portland, ME 04112
Make your own hotel reservation at Hampton Inn & Suites, 900 Post Road, Wells, Maine 04090 (207-646-0555). Click here to register for a hotel room online.
Be sure to say you are with the League of Women Voters and the room rate will be $104 plus tax. Note: when calling the hotel, do not hit "1 for reservations" or "2 for sales," but stay on the line until the front desk picks up. Our block of rooms will be held until March 31, but the rate will be in effect until the event. Find a roommate to share, and the cost will be around $50 per person. Upon request, LWVME attendees will be reimbursed $50/night toward the room rate.
Breakfast is included in the room rate. Saturday lunch is included in your registration fee. We will have dinner together in small groups at area restaurants on Saturday. Sign up at the registration table.