Your Election Updates for Monday, October 12
It's just 22 days until Election Day. And the League of Women Voters of Maine is pleased to release the Easy-to-Read Voter Guide, a staple publication to be distributed across the state. With over 120,000 copies in print, the guide will reach about 10% of all Maine voters. Check out a digital version of the guide here. Paper guides will arrive at libraries around the state this week.
While we are not accepting requests for individual copies, you can request copies of 50 or more to be delivered to your business, school, or community center. Click here to fill out our form. Or get in touch with your local League to learn more about where to find a copy in your town. Want to learn even more about the local, county, and state legislative races on your ballot? Check out Vote411.org/ballot for coverage of dozens of Maine communities.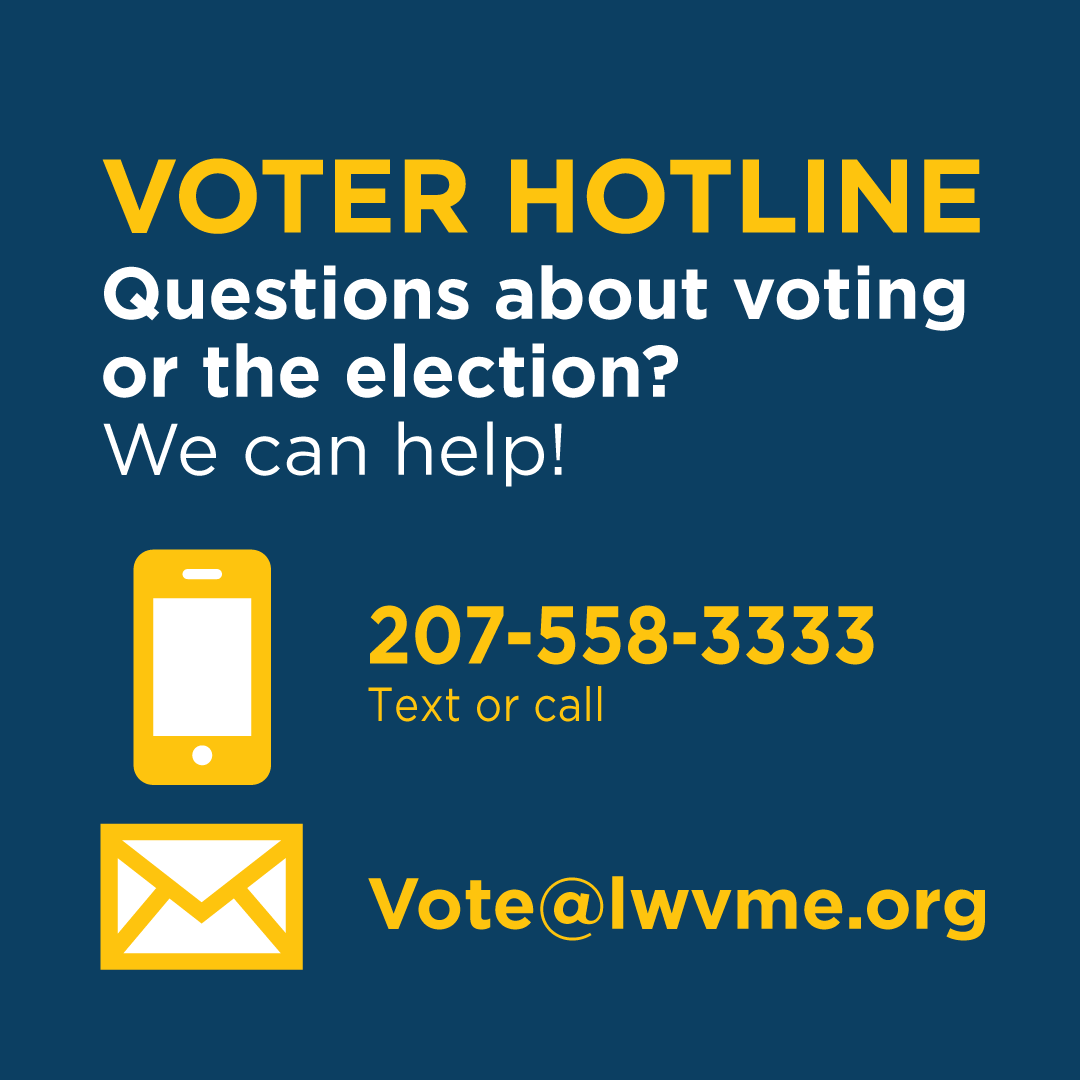 Our new Voter Hotline is live! Call, text, or email us with questions. We can answer things like:
How do I register to vote?
How does absentee voting work?
What might be on my ballot?
How does Ranked Choice Voting work?
Voting tip of the week: Voting tip of the week: Request only one absentee ballot. If you request an absentee ballot by mail but then decide to vote in person, wait for the mail ballot! Bring it with you to vote in person. Town clerks are working to avoid a shortage of ballots. (You can get a replacement ballot if you make a mistake or if your ballot doesn't arrive in a timely fashion.)
NEWS:
On Tuesday, October 6, Justice Stephen Breyer rejected the Maine GOP's last-ditch effort to stop ranked choice voting on Maine's presidential ballot.
October 12 is Indigenous Peoples Day. Today we celebrate the richness and wisdom of Native People's culture and a decolonized representation of this land's history.
You can check out recent Absentee data here. Almost 100,000 Mainers have already voted. Our town officials have done heroic work in getting ballot requests mailed out: of the nearly 340,000 requests for absentee ballots, fewer that 15,000 were yet to be mailed at the end of last week. Check the status of your ballot here at the Secretary of State's website. The site at maine.gov is the one you want.
WHAT IS THE LEAGUE WORKING ON?
If you haven't heard, the Easy-to-Read Voter Guide is here! We need volunteers in Bangor and Lewiston to help with unloading and sorting voter guides. If volunteers would like to help distribute voter guides in their community, they can reach out to Lane at lane@lwvme.org.