Your Election Updates for Monday, October 19
It's now just 15 days until Election Day. We have 2 weeks left. This is your daily reminder: take a deep breath, unclench that jaw, and relax your shoulders.
Election officials and town clerks have been working tirelessly. Of the 1 million+ registered voters in Maine, 20% of them have already voted absentee with ballots returned and accepted. We're expecting a record turnout, and there's something magical about that.
Want to help spread the word? We've put together an Election Toolkit with social media graphics, posters, and flyers. These materials are free to share, print, and distribute.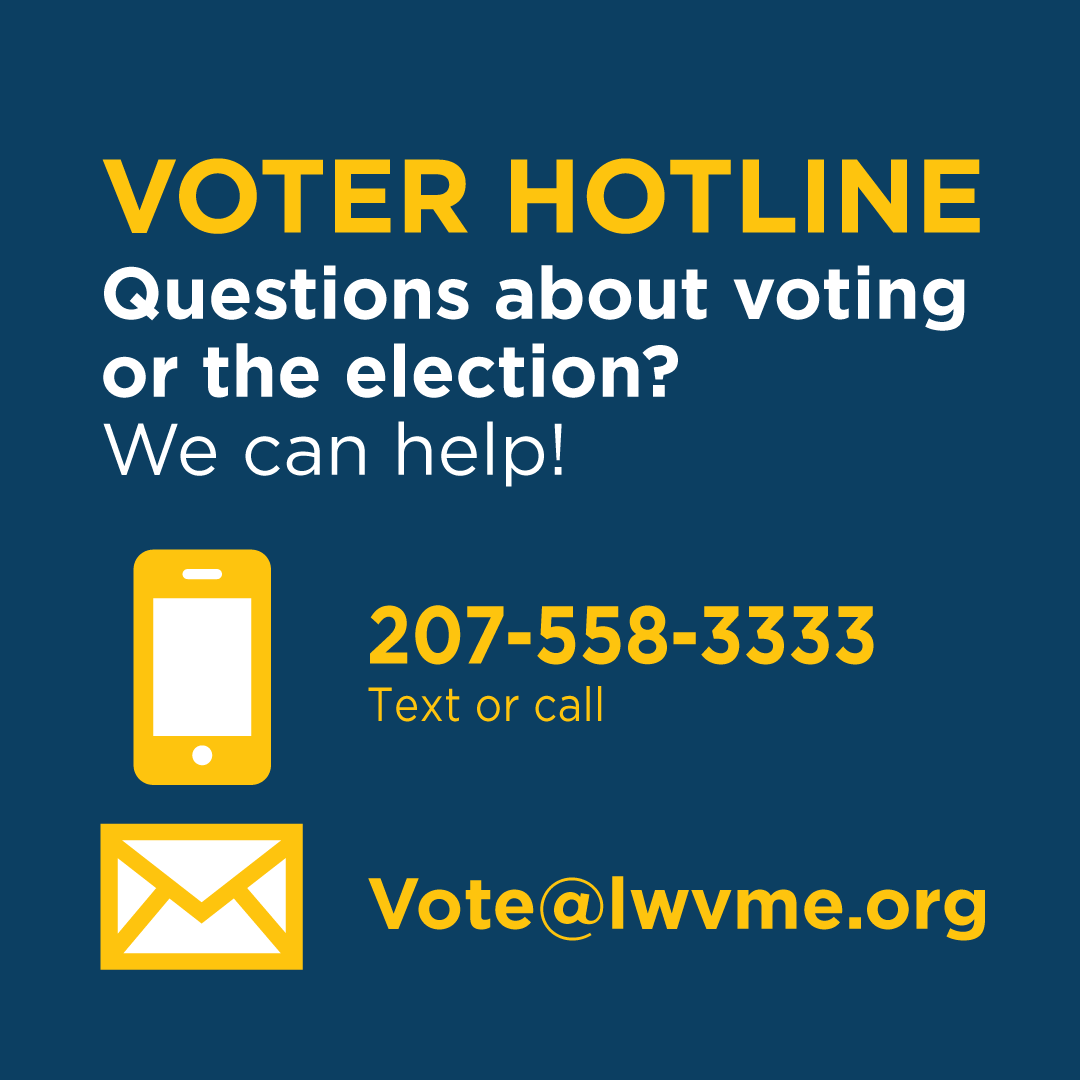 The Voter Hotline is live! Call, text, or email us with questions. We can answer things like:
How do I register to vote?
How does absentee voting work?
What might be on my ballot?
How does Ranked Choice Voting work?
Voting tip of the week: Have you got your absentee ballot? If you're going to mail it back, do it ASAP. Mail your ballot by October 19th to make sure it arrives on time. That's tomorrow. Or you can return it in person at your town clerk's office or place it in the dropbox. All ballots must be received by 8:00 PM on Election Day, November 3.
News:
On Tuesday, October 13, the US Supreme Court reversed a decision blocking a rushed Census count. The decision meant that the count was allowed to be terminated early. Virginia Kase, CEO of the League of Women Voters, stated: "Census officials have been planning this year's count for a decade, and they outlined a timeline that would ensure they could reach an accurate count during the COVID-19 pandemic." Unfortunately, the count ended at 11:59 PM Hawaii Time on October 15.
On Friday, October 16, the US Supreme Court announced that it will speed up the case on Trump's push to alter the Census for House seats. The alteration is an attempt to exclude unauthorized immigrants from the census numbers, which was blocked by a lower court in September. The Justices will hear oral arguments on November 30.
On Friday, October 16, Maine's Attorney General Aaron Frey posted a new election advisory. Here are some highlights: 1) Laws are in place to prohibit private citizens from intimidating voters at the polls. 2) The President cannot send military and/or federal law enforcement to monitor the polls. 3) The President cannot order state and/or local law enforcement to monitor the polls. 4) Complaints about interference with the right to vote or register to vote that occurs at or around the polling place should be directed to the local election warden, who has the power to eject people from the polling place or request the assistance of law enforcement. Each polling location will have an election warden.
You can check out recent Absentee data here. Over 223,000 Mainers have already voted, with 390,700 requests total. Town clerks continue to process an unprecedented number of absentee ballot requests. With 390,700 requests total as of Friday, only about 5,000 absentee ballots are waiting to be mailed out to voters. Fewer than 1,500 ballots (less than 1%) have been returned with problems; and of those, half have already been fixed.
Maine has an Absentee Tracker where you can stay updated on the status of your ballot. Check the status here: bit.ly/MaineAbsenteeTracker. If you encounter an issue with your ballot or if you notice that it has been rejected, contact your town clerk ASAP. You have the right to remedy your ballot if it's rejected for any reason.
WHAT IS THE LEAGUE WORKING ON?
The Easy-to-Read Voter Guide has arrived. Check out a digital version of the guide here. While we are not accepting requests for individual copies, you can request copies of 50 or more. Click here to fill out our form. Or get in touch with your local League to learn more about where to find a copy in your town.

Want to learn even more about the local, county, and state legislative races on your ballot? Check out Vote411.org/ballot for coverage of dozens of Maine communities.