Your Election Updates for Monday, October 26
It's now just 8 days until Election Day. We have 1 week left. We're offering some vital services for voters through our hotline and voter guides. Help share these tools by forwarding them to family and friends.
Voting tip of the week: It's now considered too late to mail back your absentee ballot. To make sure your ballot is received on time and counted, return your ballot by placing it in the dropbox or in person. All ballots must be received by 8:00 PM on Election Day, November 3.
RESOURCES FOR VOTERS
The Voter Hotline is live!

You can call or text our Voter Hotline at: 207-558-3333. Or click here to email your question.
You can also submit questions to our Help ME Vote Facebook Page. You don't have to the join the Facebook group in order to post a question.
Visit Vote411.org to see what's on your ballot. This is a great resource for local races and issues. See who's running for City Council or School Board and any local referendums. Vote411 is available in English and Spanish.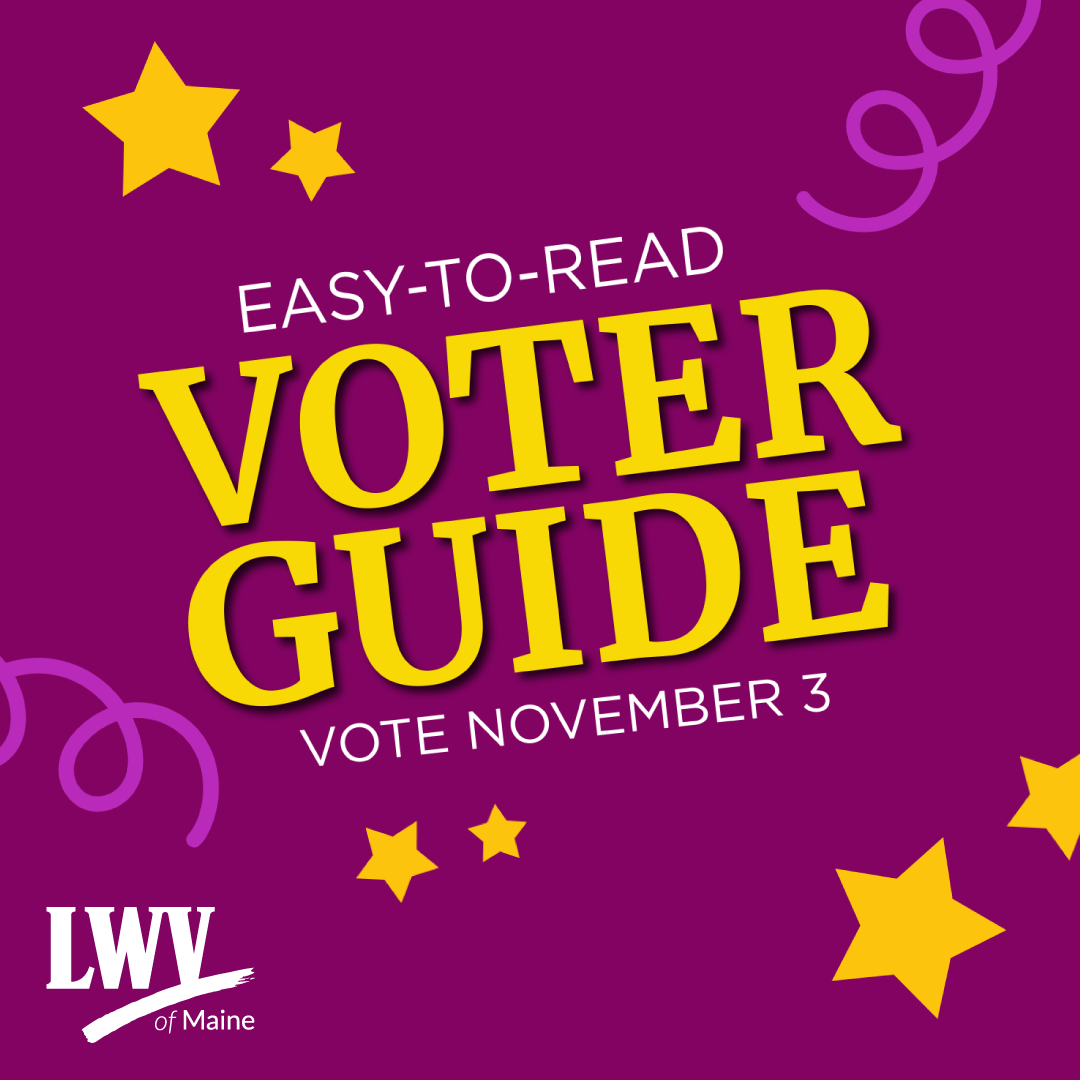 We have been distributing copies of our Easy-to-Read Voter Guide across Maine. This is a great guide for general, state-wide information. Digital copies are also available in English, French, Spanish, Somali, Portuguese, and Arabic. Click here to print and share!
Requested and returned your ballot? Track it! You can stay updated on the status of your ballot. Click here to get started. If you encounter any issues, contact your clerk ASAP. You have the right to fix your ballot if it's rejected for any reason.
Want to help spread the word? We've put together an Election Toolkit with social media graphics, posters, and flyers. These materials are free to share, print, and distribute. Click here to access.
We are currently collecting responses to our absentee voting survey, and are pleased at the mostly positive responses from voters so far. If you've voted absentee by mail, dropbox, or at your town hall, you can fill out the survey here. Please share it far and wide.
VOLUNTEERS NEEDED

On November 3, trained League volunteers will monitor voting at polling places around the state, watching for issues such as long lines, equipment problems, and inadequate COVID precautions. We are currently recruiting volunteers for full or part-day shifts. See our events calendar for upcoming trainings.
Many towns now have dropboxes, but types and security protocols vary. There is no central database of dropbox locations, so the League is building an Absentee Dropbox map. View the current map, or sign up here to help us fill in the gaps.
News:
You can check out recent Absentee data here. Over 343,501 Mainers have already voted. That's over 30% of registered voters. Town clerks continue to process an unprecedented number of absentee ballot requests. Of the 445,488 absentee ballot requests received so far, as of Friday, only about 1,983 absentee ballots are waiting to be mailed out to voters. Fewer than 3,000 ballots (less than 1%) have been returned with problems; of those, all but 900 or so have already been fixed. Some towns will begin early processing of absentee ballots this week.