Monday, September 5, 2022
Jen Lancaster
Happy labor day! Voting rights and worker's rights have a shared and long history. Let's celebrate activists past and present who have sacrificed and contributed to these movements so that we can create a more equitable future.

Here are the most crucial things to know this week.
Candidate Forums: Our Local League chapters have started planning nonpartisan candidate forums for various state legislative, county and municipal races in their areas! Many of these forums will be held virtually or in-person with an option to watch online, and the recordings will be posted to both the LWVME candidate forums webpage and the League's online voter guide, Vote411.org.
The Local Leagues are looking for volunteers to help organize the forums, including helping find co-sponsors, finalize event details, and generate questions for the candidates. They are also looking for help running the forums, with tasks like collecting audience questions or moderating. Check out LWVME's forum toolkit for an idea of what a nonpartisan League candidate forum entails.
If you would like to get involved in organizing or running a candidate forum, please email Lane Sturtevant at lane@lwvme.org and they can connect you with your Local League! And if there is no Local League in your area, LWVME is assisting other community groups in planning forums as well.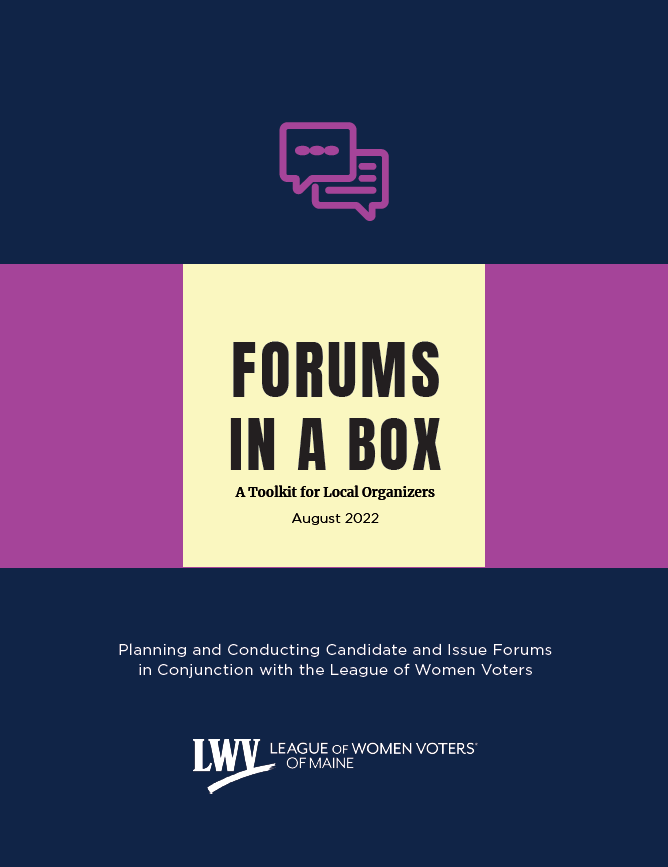 Forums in a Box
Published Aug 2022
The Forums in a Box Toolkit for Local Organizers has been developed to help community organizations partner with the League of Women Voters to conduct candidate and issue forums in local communities. This toolkit is also designed to offer guidance to Local League chapters organizing candidate and issue forums in their area.