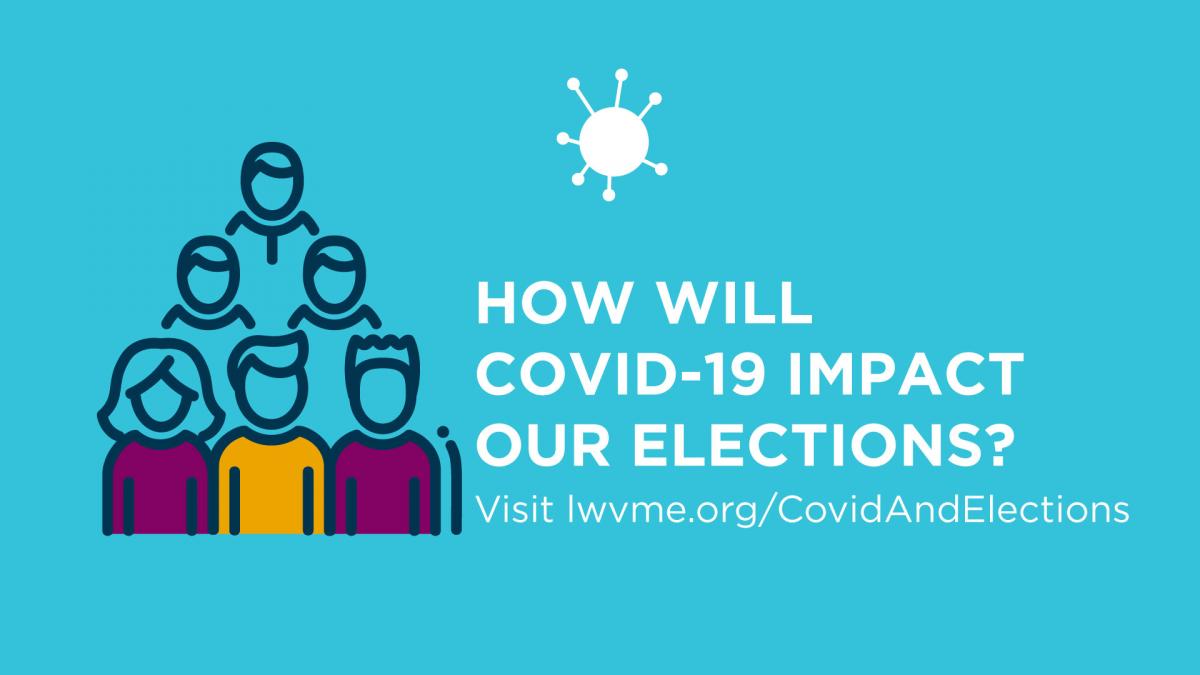 We know that you probably have questions about how the COVID-19 pandemic is impacting upcoming elections. We will keep this page updated with information as we learn more. If you don't see an answer here, you can contact us at info@lwvme.org or on Facebook or Twitter.

Will there be a primary in June? What about the November election?

Yes, the current plan is that there will be a primary on June 9, and the governor has some new powers to ensure that it goes smoothly.

The November election date is set by the constitution, and cannot be moved. There has always been a national election on schedule - even when America found itself torn apart during the Civil War. The American electoral system is the cornerstone of our democracy, and we must ensure everyone can use it to make their voices heard, even in the midst of a crisis. We must continue to ensure that elections are administered fairly and in a way that protects access to voting for every eligible American. This is a real goal we can accomplish; and on the other side of this crisis, when we look back and see that even amidst a global pandemic American democracy did not falter, we will be stronger for it.
What if we're still needing to isolate / quarantine in June?

It is imperative for state election officials to address voters' and poll workers' fears by emphasizing and facilitating absentee voting and voting by mail. To hold an election that ensures access to voting and also keeps people safe during this pandemic includes moving to as much vote by mail as possible.

We also need to keep polling places open for voters who need them. We can do this in ways that protect both poll workers and voters who chose to vote in person. Keeping polling places open that avoid concentrating voters, crowding, and lines will be important. States are experimenting with curb-side voting.

We will have the benefit of seeing how other states handle elections in the coming months and what they do right and wrong. This will help policy makers and voters in Maine.
Who has the authority to change the election procedures?

The Legislature's

parting act

was to temporarily give Governor Janet Mills more power over elections, towns, and schools. An omnibus bill passed March 17 said she can take "any reasonable administrative actions" to ensure as many voters as possible are able to participate in the June 9 primaries — including an expansion of absentee voting.

Emergency powers are subject to reconsideration and renewal after 30 days.

Local officials have the ability to delay municipal elections. They must give notice and reschedule.

Section D3.
What is going on nationally?

LWVUS put out

a statement

on March 16th officially calling on all states to expand no-excuse absentee voting and mail-in ballots for the duration of the 2020 election cycle (Maine already has these provisions).

In the US Senate, Senators Amy Klobuchar and Ron Wyden have introduced a bill to expand no-excuse absentee vote-by-mail to all states and provide funding for state implementation. Notably, the bill is not limited to the 2020 election cycle and also expands other forms of voting such as in-person early voting.

On March 27, President Trump signed the CARES Act into law. Included is $400 million in federal grants to help states conduct elections during the COVID-19 crisis. This money is intended to increase registration opportunities and the ability to Vote-by-Mail, as well as provide funding for polling place staffing.
Does Maine need to make changes to adjust to heavier-than-normal absentee voting by mail?

LWVME recently released our report on Universal Vote-by-Mail. Though written before the current crisis, many of our recommendations still hold true, including:

Maine's election system should protect our current range of choices.

Voters should be able to track ballots, and e

lection workers should notify voters if there are errors on a ballot in time for them to receive a replacement.

The state should consider covering return postage and provide secure drop boxes for ballots to be returned.

The state should consider more proactive outreach to eligible voters in the weeks before the election.
How do I request an absentee ballot if I don't have the form / can't leave my house?

On the Secretary of State's website, there is a form you can fill in online. You can also print it and mail it in. Click this link to access.

You can also request an absentee ballot by phone from

your clerk

.

You can request an absentee ballot for an immediate family member.

Requests for absentee ballots for June 9 primary are being accepted now.
How do people register to vote if they're social distancing?

Currently, it is possible to register to vote by mail or in person.

There is a universal voter registration application online from the Election Assistance Commission.

https://www.eac.gov/voters/national-mail-voter-registration-form

. This application must be printed and mailed in; it cannot be completed online.

You can request

your town clerk

to mail you a voter registration form.

Voter registration forms must be mailed to the secretary of state no later than 21 days before an election. Voters can register in person with their town/city clerk or at the polls up to and including election day.

Mail-in registration must include a proof of residence and a copy of your ID.
Can we implement online registration?

This would almost certainly require a change to the law. Currently, someone must "appear" before the registrar to register, and there is an exception for a mailed-in, signed, form. It is possible this change to the law may fall within the expanded powers of the Governor. The primary challenge is ensuring that there is a signature on record for the voter at registration, to ensure that the signature on an absentee ballot matches. In some other states that have online registration, it is only available for people with a driver's license (and therefore a signature on file already). That might be a partial solution for Maine, though it would further marginalize people without a driver's license. See more about online voter registration here [link coming soon].
Has anything changed with the requirements for candidates or referendums to qualify for the ballot?

Candidates for the June primary had to qualify by March 16. Nonparty candidates have until June 1, 2020. No news there.

The Maine GOP's people's veto of ranked choice voting in presidential elections will have a shorter window to collect signatures for the November ballot. The deadline is 90 days from the legislature's final adjournment. Statutory adjournment was set for April 15, but the legislature adjourned early on March 17. This moves the clock up to June 15. They could still gather signatures at the polls on June 9, but they may have trouble getting them verified by town clerks and submitted to the Secretary of State by the new deadline. And that's not to mention that COVID-19 may have more people voting by mail in June than they would normally.
LEAGUE PROGRAMMING
Will we have a voter guide this year?

Yes, the LWVME Easy to Read Voter Guide will be more important than ever.

Voters can access information all year round at Vote411.org/maine.

We are currently planning a printed guide for June, but this may change. We will certainly have one for November.

If you'd like to get involved with our voter guide, we are currently recruiting volunteers! Contact

evan.tess@lwvme.org

for more information.
What about our other programs?

Our Neighbor to Neighbor canvass is impractical as currently designed. We are currently working to redirect our voter engagement efforts.

In-person events and meetings have also been suspended.

We are planning online webinars and other ways to connect with each other and reach activists and voters.
More Resources
MIT Elections and COVID-19 Site
Mailable Voter Registration Form
Contact Information for Town Clerks
Ten Recommendations to Ensure a Healthy and Trustworthy 2020 Election
Three Measures to Ensure Ballot Access During the Coronavirus Pandemic