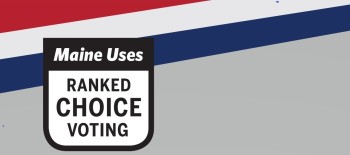 Mainers will be casting their ballots using ranked choice voting in the June 12 party primaries, making Maine the first state in the nation to use ranked choice voting in a statewide primary election.
Based on the candidates that have qualified for the ballot, we will have ranked choice voting in these races:
Republican and Democratic primaries for governor
Democratic primary for the 2nd Congressional District
Republican primary for State Representative in District 75 (Turner, Leeds, Livermore)
Elections matter. Let's get this right.
We've launched a new project at Maine Uses Ranked Choice Voting
Let's make sure Maine people have the voting information they need to participate fully and effectively in the primary.
Let's help election administrators ensure that the election meets or exceeds the highest standards of accuracy, transparency, and security.
Let's work with candidates and others involved in campaigns so that they can develop effective strategies for running their campaign and for playing their role in educating voters.