The League of Women Voters of Maine presented a series to promote a better understanding of the past and present of the Wabanaki indigenous people in 2021. The four-part series dove into difficult truths about the colonization of Maine and how understanding Dawnland today can help us become better allies of the Wabanaki tribes.
Have a minute to spare?
Your feedback is valuable to us as we continue to organize more events for the upcoming year.
Fill out our quick survey here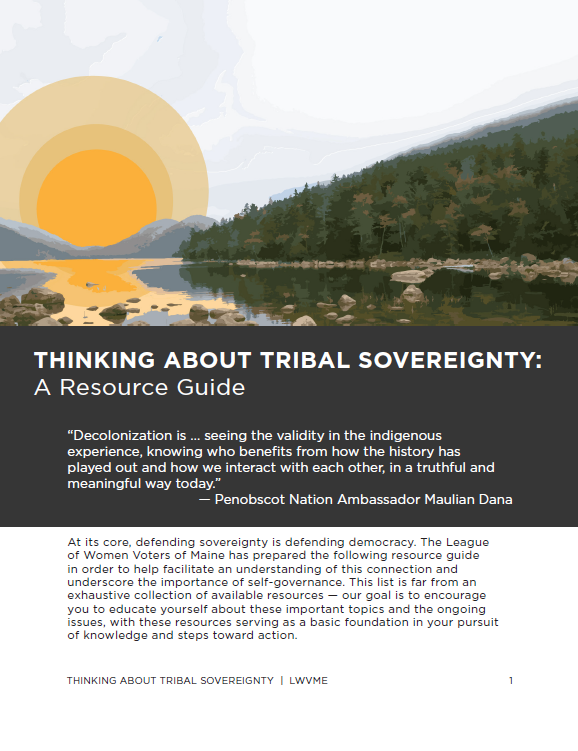 PREVIOUS EVENTS:
Panel Presentation with Wabanaki Chiefs
Thursday, December 16 at 6:00 PM
Featuring Chief Kirk Francis of the Penobscot Nation, Chief Edward Peter-Paul of the Aroostook Band of Micmacs, Chief Clarissa Sabattis of the Houlton Band of Maliseets, and Vice-Chief Ernest Neptune of the Pleasant Point Passamaquoddy Tribe.
An Introduction to the Sovereignty Act + Discussion
Wednesday, November 17 at 6:00 PM
Featuring the Ambassador Maulian Dana from the Wabanaki Alliance and Cory Hinton
Wabanaki Alliance's powerpoint presentation
Land Acknowledgement
Wednesday, October 13 at 6:00 PM
Featuring Dr. Darren Ranco from the University of Maine Department of Anthropology
Dr. Ranco's powerpoint presentation
Dawnland Film Viewing + Discussion
Thursday, September 23 at 6:00 PM
You can view the discussion portion of this event below. If you would like to view the film on-demand, contact your local league for the link and password.