Centennial Celebration
Making Democracy Work for the next 100 Years
The League of Women Voters of Maine Centennial
Augusta, ME. Feb 13, 2020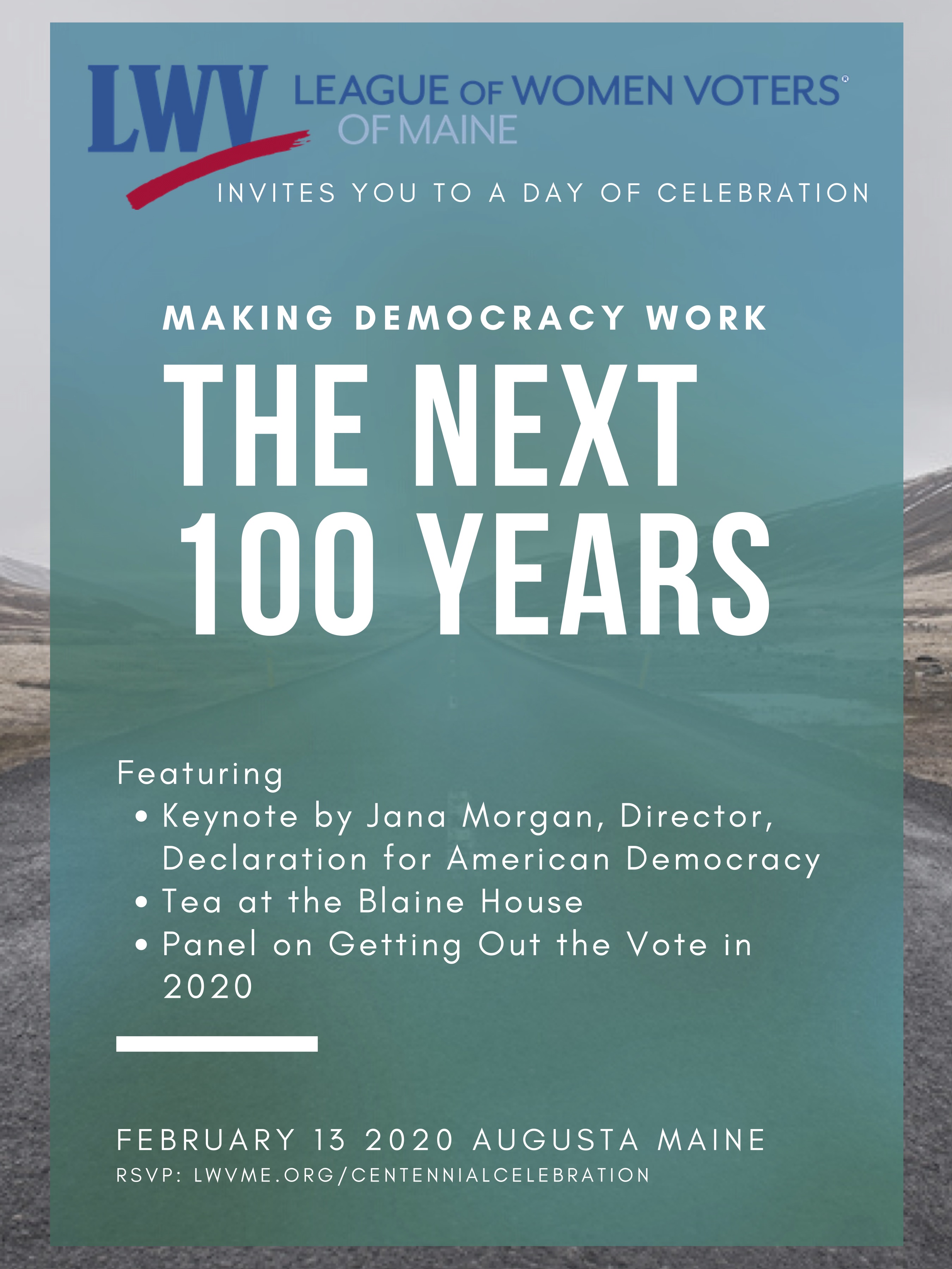 Register now for the League of Women Voters of Maine's 100th birthday celebration
Come celebrate our 100th birthday with a day of learning, action, and celebration at the State House.
You won't want to miss the keynote speaker, Jana Morgan of the Declaration for American Democracy, and a program emphasizing Maine's role in the national movement for a stronger democracy.
There will also be opportunities to engage your legislators, and in the afternoon, we will have tea at the governor's mansion, and a panel discussion on ways to improve voter turnout in 2020.
We will begin the day in the Hall of Flags in the State House in Augusta and the Blaine House (across the street).
Tentative Agenda - Schedule Subject to Change
9:30 - 11:00 100th Anniversary Commemoration, Hall of Flags, State House.
Keynote by Jana Morgan, Campaign Director for Declaration for American Democracy, a coalition of over 145 good government, environmental, labor, civil rights, and other groups, including the League of Women Voters of the US. She previously served as the Director of Advocacy and Campaigns at the International Corporate Accountability Roundtable, where she led the organization's efforts to combat corporate capture and launched the Protect the Protest coalition. She was also a board member on the Extractive Industries Transparency Initiative, representing North America and Europe. Before that, she was the Director of Publish What You Pay – United States where she led the coalition's efforts to bring transparency and accountability to the oil, gas, and mining sector, and now serves on the organization's Steering Committee. Jana also worked at Global Witness, doing advocacy and in-country field research on Afghanistan's extractive sector, conflict minerals exploitation in the eastern Democratic Republic of Congo, and the development of governance systems for Uganda's emerging oil sector. Janaholds an MA in International Relations from the Maxwell School of Syracuse University and a Certificate of Advanced Study in Conflict Resolution. She received her BA in Government from St. Lawrence University.
11:00 - 2:00 Meet with legislators, lunch discussions, Cross Cafeteria.
2:00 - 4:00 Tea at the Blaine House and Getting Out the Vote Panel Presentation.
The panel will discuss some key factors that keep people from voting, and what strategies reach disenfranchised communities.
Carrie LeVan, Assistant Professor of Government, Colby College
Pious Ali, Portland City Councilor and leader of Maine Immigrant Rights Coalition voter engagement
Ava Baeza, Student at Camden Hills Regional High Schoo, Maine Teen Activist Coalition (MTAC) participant, co-moderator of the Democratic Senate forum held last November at CHRHS, and member of the Senator Olympia Snowe's Women's Leadership group.
Register Now
Registration is a suggested donation of $10-20 per person paid to the LWVME Education Fund. This helps us to cover the costs of the event. If this poses a barrier to your attendance, please click the 'fee waiver' option.