The Democracy Forum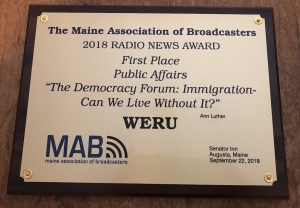 Beginning in 2004 and every four years since, the League of Women Voters - Downeast in cooperation with WERU FM has produced and sponsored a series of radio programs on topics in participatory democracy called the Democracy Forum.
Beginning in 2017, just because there's so much to talk about, we continued the conversations for the first time into a non-election year, and we've been doing it every since.
In September, 2018, the Democracy Forum won top honors from the Maine Association of Broadcasting for public affairs radio.
Broadcasts may be heard from 4:00 to 5:00 p.m. on the third Friday of the month. Listen live at WERU Community Radio, 89.9 FM, streaming on the web at WERU.org.
Here is information about current programs. Programs from the 2016, 2012, and 2008 archives are also available online.
We welcome volunteers who are interested in planning and producing the programs. This great project has taught us so much and made friends of our colleagues. For more information, contact us at downeast@lwvme.org
Peter Shinkle Book Talk
Author Peter Shinkle joined our book group on February 22, 2023, to talk about his book, United America: How FDR and Henry Stimson Brought Democrats and Republicans Together to Win World War II.
Conspiracy Theories in American Politics with Jamie McKown
Jamie McKown was our guest for the LWV-Downeast meeting on November 12, 2022. Jamie is Associate Dean for Academic Affairs and James Russell Wiggins Chair in Government and Polity at COA. He has an long-standing interest in conspiracy theories in American politics, and he'll reflect on how these have shaped our civil discourse in the past and in this particularly fraught moment post-election 2022. Click here to listen to the interview.
Reflections on Local Journalism from Earl Brechlin
Earl Brechlin was our guest for the LWV-Downeast meeting on July 9, 2002, at the Moore Center in Ellsworth. Earl first spoke to the League about 20 years ago about the state of local journalism. It was pretty eye-opening way back then. We invited him back this year to revisit the topic and reflect on the status of local reporting and local newspapers. Earl is former editor of the Mount Desert Islander, which he co-founded with The Ellsworth American publisher, Alan Baker.  Earl's journalism career began as a reporter for the Bar Harbor Times. Now retired, Earl's distinguished lifetime contribution to local journalism will be honored in October when he will be inducted into the Maine Press Association Hall of Fame. Click here to listen to the interview.
Book Group
Our book group meets more or less monthly. We've read a lot of great books about democracy, politics, and American history. You're welcome to join us. Visit the
calendar
for the upcoming selection and details.
Join Us
Including communities in Hancock County.
Check the Calendar for upcoming events near you.
Membership
Looking for a place to get engaged? Join the League of Women Voters - Downeast? Join online with a credit card here.
Contacts
PO Box 1394   
Ellsworth, ME 04605   
(207) 622-0256   
downeast@lwvme.org